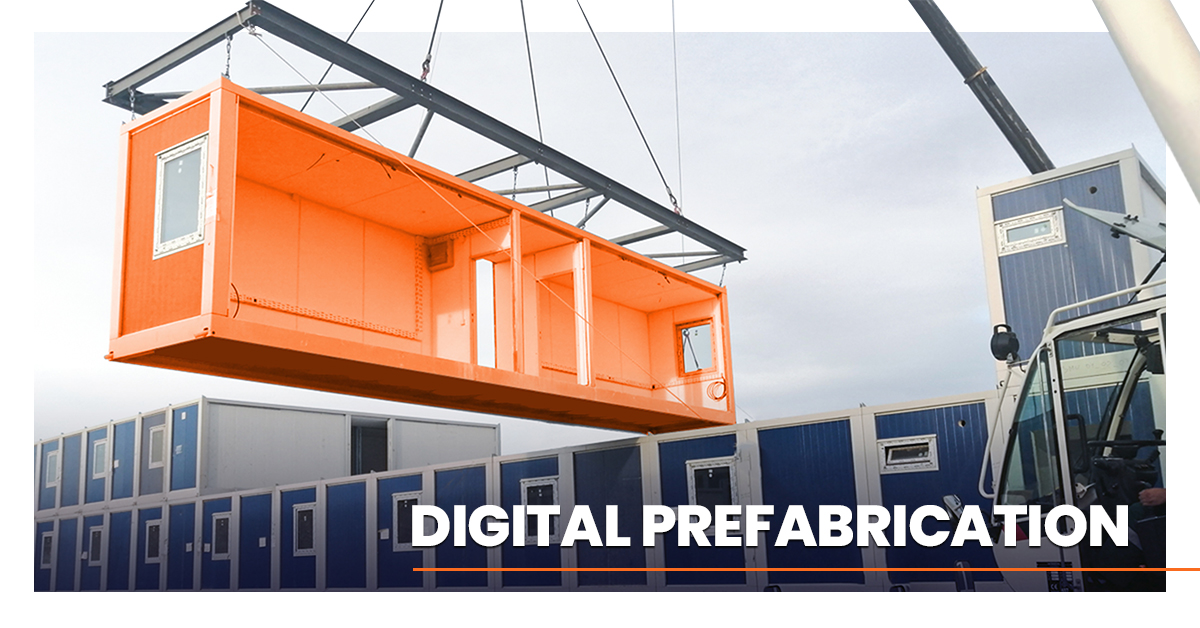 Advantages of digital prefabrication for the modern construction industry
In the light of technological advances, the construction industry develops new methods to respond to customer needs and labor-related difficulties, and diversifies the Modern Methods of Construction (MMC) in order to increase productivity in the sector. Digital prefabrication is a type of production where digital data directly directs production equipment to create various building components. It is the cutting-edge of the modern construction industry revolution.
Today, it is seen that multicomponent prefabricated building elements offer high quality projects with lower costs and accelerated optimizable programs. Recently, concepts such as Design for Manufacturing and Assembly (DfMA)  and Designing for Industrialized Methods of Construction (DIMC) constitute the most basic and modern elements of Off-Site Construction and Modern Methods of Construction (MMC). Both concepts not only support engineering methodology simultaneously but also the industry transition from fully on-site construction to on-site assembly of ready-made prefabricated building components.
Design for Manufacturing and Assembly (DfMA) in the simplest definition; It is the application of the (factory) production conditions realized in industrial facilities to modern construction projects. It also includes prefabricated modular building elements. In practice, building structural elements are manufactured off-site in a controlled environment, transported to the site and made ready for assembly.
The Design for Industrialized Construction Methods (DIMC) aims to programmatically select and supply building components for use in the project. It aims to accomplish without compromising the improved design, construction quality, cost and project schedule (timeline).
Exclusive solutions supported by virtual models
DORCE manufactures prefabricated modular building components directly with Building Information Modeling (BIM)  and complete their assemblies completely digitally off-site in total accordance with the project requirements; including load-bearing panel system structures, paneled exterior walls and internal walls with built-in electrical and sanitary installations. DORCE integrates the digital fabrication of the building components that make up the main structure into its projects from the very beginning of the design process.
Customized (customer-oriented) prefabricated modular structures are built to suit the unique needs of each project, utilizing Virtual Design and Construction (VDC) processes and data-rich Building Information Modeling (BIM). DORCE works in integration with in-house engineering, design and project management department in order to maximize and optimize the architectural design for the Design for Manufacturing and Assembly (DfMA) process without changing the design.
Is it possible to enhance construction efficiency with improved digital programs?
Digital prefabrication reduces costs and workforce on site, increases quality, and accelerate the construction schedule. Enhanced digital modeling applications that facilitate the link between design and construction put prefabrication at the forefront of the technology revolution that transforms construction.
Including digital prefabrication in the design of the project provides the following advantages:
Higher Quality: Digitally prefabricated modular building component in a factory-controlled environment improves quality control. Identical products are created on the basis of models and then components requested in the field are presented.
Cost Control: Waste material is minimized since construction materials are grouped. The workforce managed in the factory environment offers greater predictability by providing higher productivity, safer working environments and cost advantages. The cost of site workforce is approximately 2.2 times that of factory workforce, and factory productivity is approximately twice that of construction site.
Accelerated Work Plan: Prefabricated modular building components such as panels, walls and roof are manufactured in parallel with infrastructure, concrete, installation and site preparation works etc. In this way we ensure that the project is completed earlier. Since the weather conditions do not affect the production activities in the factory environment, less negative factors are encountered in the production processes.
Less Workforce: Off-site construction requires fewer workers on-site, thus provides a safer working environment. Since it provides consistency, it is defined as the most attractive sector of the construction industry in terms of workforce. The controlled factory environment also offers the opportunity to cross-train in specific tasks, which helps to balance the workforce and develop various skills.
Sustainability:  Since mass production is carried out in the prefabricated modular construction sector and it takes place in a controlled environment, the waste material is significantly reduced or even totally avoided. In addition, fossil fuel consumption and related emissions are lowered as the number of vehicles traveling to and from the construction site decrease.
Site Restrictions: Weakened mobility due to pandemic has made site restrictions become even more common. Prefabricated modular construction minimizes the number of workers needed on site. For this reason, the applicability of off-site constructions gains more importance with each day passing.
Share This Story, Choose Your Platform!