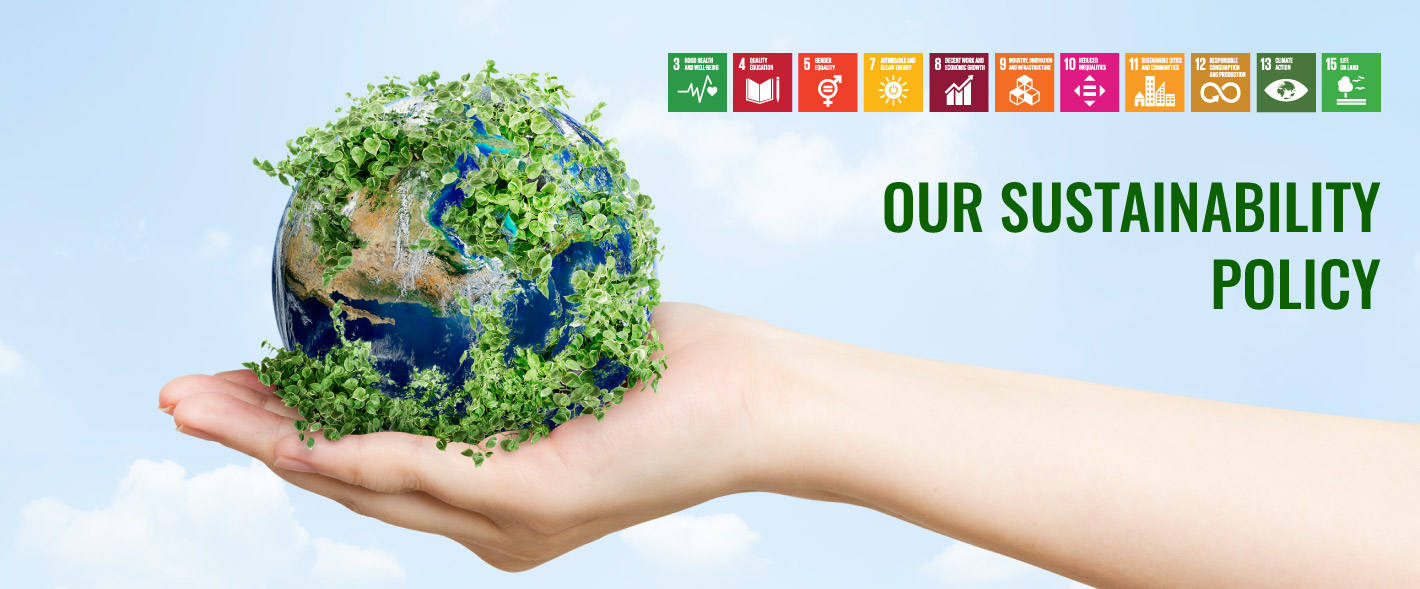 We carry on our activities for a greener world based on fair social and economic development in which environmental values and natural resources are protected for the benefit of present and future generations.
We provide rapid modern modular steel solutions under severe  climatic conditions (desert, poles, etc.) in different geographies with our in-house engineering staff taking into account of the importance of environmental protection.
The United Nations Global Compact, Sustainable Development Goals (SDGs), The European Union's Green Deal, the effect of the circular economy and technological developments with digitalization, led the construction industry evolving into prefabricated modular steel structures in developed countries.
Within this framework, DORÇE adopts and implements the following in order to serve sustainable development;

  Reducing the environmental footprint,

 Implementing zero-waste policy,

 Adopting a recyclable product lifecycle,

  Giving importance for employe-centered organizational structure,

 Establishing Long-term sustainable stakeholder relations by taking into account their expectations,

 Responsible to the social difficulties,

 Creating projects to support social development in all geographies where we operate,

 Creates value by developing smart modular construction projects in line with R&D, innovation studies, digitalization and developing technology,

 All our activities are operated with the principle of energy and resource efficiency ,

 Protection of biodiversity and natural resources is our priority,

 We ebrace sustainable supply chain management,

 Adopts and implements Business ethics and code of conduct in its entire business ecosystem.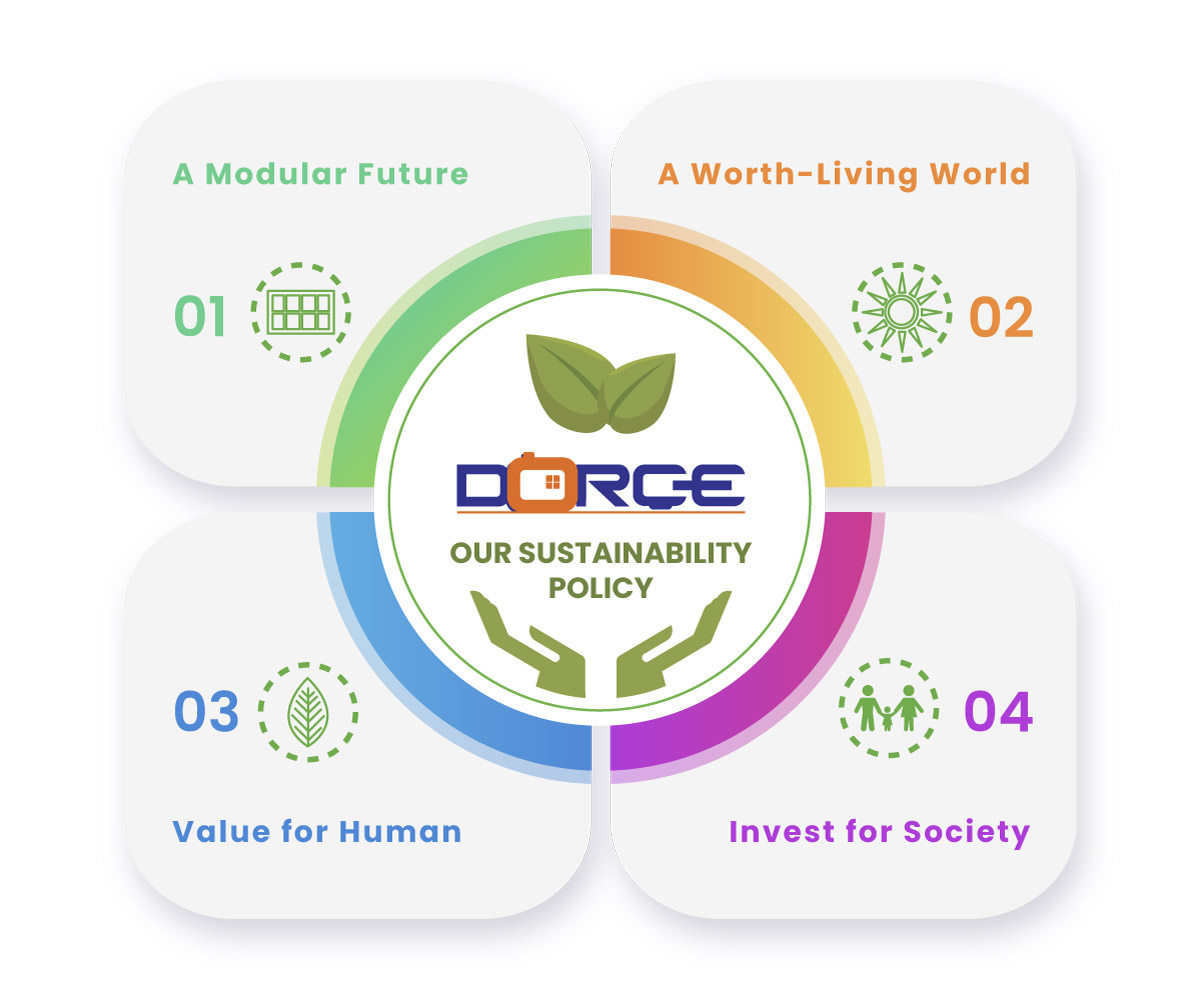 We develop turnkey smart modular building projects that are in line with sustainable development goals, the principles of energy efficiency and zero waste, low carbon footprint, and within the principles the circular economy.

DORCE is constantly renewing itself to leave a greener, sustainable and fair world to future generations by taking environmental values into account, with its organizational structure that has implemented with the Modern Methods of Construction (MMC).

We give great importance for the assesment and evaluation of the economic, social, and environmental risks of our operations to the prevention and minimization of possible negative effects by applying the related management systems.

The company allocates more resources to R&D and innovation studies above the sector average.

Building Information Modeling (BIM) is used to increase the efficiency of the construction process, reduce waste and to improve the quality and lifetime of the structures.

We give great importance to increase awareness of our employees, employers and stakeholders on our sustainable development goals and adopting as the corparate culture.

We spend serious commitment to make our employees, employers, suppliers and all real people and legal entities or with whom we interact to posses and develop our business ethics and code of conduct.


We assess and evaluate the environmental impact of our activities and follow all related policies and take necessary actions of environmental, water, and waste management.

Within the scope of the Paris Climate Agreement, we measure and monitor our carbon emission in order to combat with climate change and aim to reach zero carbon footprint.

We follow a sustainable energy policy with the principle of increasing the useage of renewable energy resources.

We develop green building solutions for the projects by prefering eco-friendly materials and equipment.

We carry out our activities with a completely recyclable product policy in the design, manufacturing, and material selection processes.


In order to support the continuous employee development and to ensure a sustainable corporate human resource management, we provide equal training opportunities by career planning in line with the talent pool created by performance evaluation.

We provide continuous trainings on Occupational Health and Safety to our employees and stakeholders in order to ensure a safe working environment.

We take the preventive measures for Covid-19 in the manufacturing facility, head quarters and site offices to protect our employees .

We provide an ergonomic and ideal working environment to supports the physical and mental health of our employees.

We follow a collaborative approach by encouraging freedom of expression and ensuring our employees to take part in decision making process  and to maintain employee loyalty.


We support the social and economic development of our stakeholders in all geographies we are operating by contributing local employment.

We provide a respectful working environment with  gender equity in equal wage and career planning rights.

We foster an inclusive and diverse working environment with our multinational workforce.

We design and implement social responsibility projects in the the geographies we are operating in order to contribute to the solution of the social difficulties.

We give priority for supporting art and sport projects with the awareness of the importance of them on social development.