Dorce is Leading The Green Revolution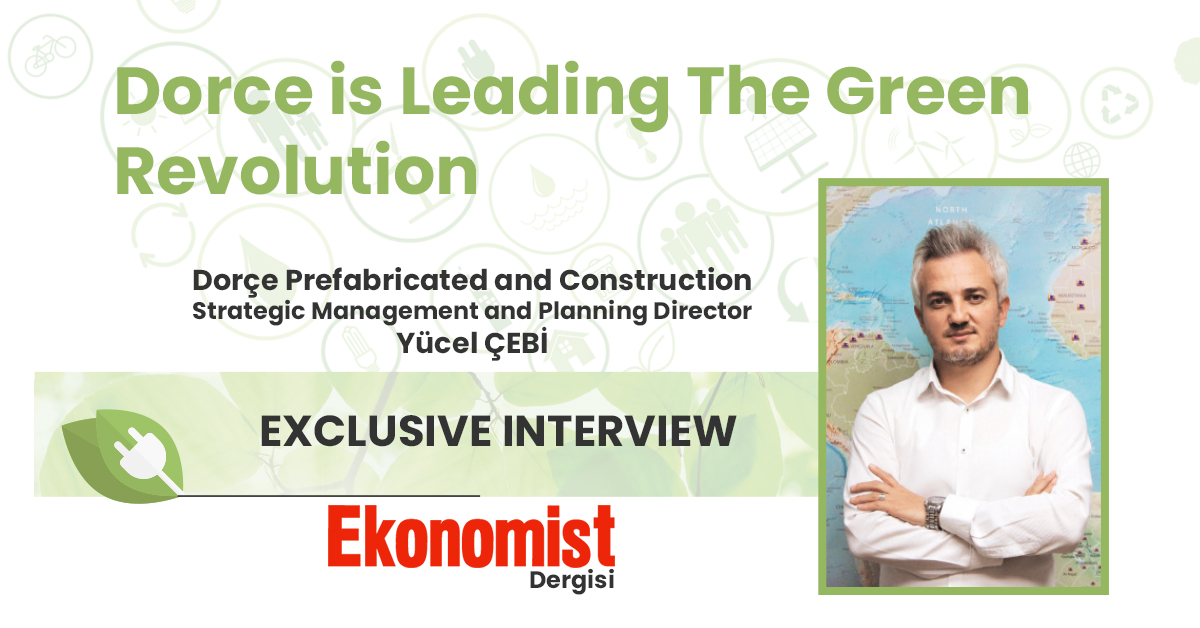 Having received "ISO 14064 Greenhouse Gas Verification Statement" DORCE leads the green revolution in the construction sector. Strategic Management and Planning Director of DORCE, Yucel Cebi, has stated that DORCE has started to determine the role the company can play in nature's fight against carbon emissions.
The concept of green building combines features such as sustainability, eco-friendliness, healthiness, low carbon footprint generation, and recyclability of raw materials. The prefabricated and modular structures, where these features are combined, are the reflection on the sector. Dorce Prefabricated Buildings & Construction has adopted an export-based business model as an industrialist company with modular and prefabricated building manufacturing and also as a contractor with turnkey projects completion. DORCE has been offering in-house EPC services with more than 40 years of experience.
1500 PEOPLE ARE EMPLOYED
Founded in 1982, the Company currently employs approximately 1,500 people. Leader of its sector, Dorce received "ISO 14064 Greenhouse Gas Verification Statement" in September 2021 as a result of a 9-10 month study that included awareness-raising, encouraging participation, carbon footprint calculation, and reporting processes. Although the Company is not in the prioritized sector group according to the Border Carbon Regulation Mechanism (CBAM) and Fit for 55 programs, it has become one of the contracting/subcontractor companies that European customers give priority owing to its certified Carbon Footprint.  "We started to see the roles that we can play in nature's fight against carbon emission within the scope of Green Revolution." Strategic Management and Planning Director of Dorce Prefabricated Buildings & Construction, Yucel Cebi, stated. "Today we have the opportunity to be one step ahead in our journey of redesigning the future individually, institutionally, and socially."
"Desired degree of the adaptation has not been reached yet"
The desired degree of adaptation of the Turkish construction and real estate sectors to the Green Revolution has not been reached yet. According to Cebi "Providing support in parallel with the tax burden of the sector and the appropriate preparations of legislation that define the borders will accelerate the transition."
GREEN CLIMATE FUND OPPORTUNITY
Since the strategy being followed in the current transition period is based on encouragement and participation, the "Green Fund", whose borders are broad and divided into different titles, is expressed in trillions of dollars. Yücel Çebi emphasizes that in order to take advantage of these opportunities and to have an advantageous position in Carbon Border Adjustment Mechanism (CBAM), Dorce has started serious R&D studies by forming in-house Agile Teams to develop nature and society-friendly projects for carbon neutralization. For a more livable and sustainable world, we need structures manufactured from renewable raw materials due to their lifespan. On the other hand, we must focus on renewable energy as much as possible. In this context, it is necessary to develop self-sufficient designs in terms of natural resources usage. "When urban transformation specifications can be combined with green transition requirements, it will have a more positive effect than expected," Çebi says. "Incorporating modular structures in this process, which are alternatives to conventional buildings in urban transformation, will make significant contributions, considering their faster adaptation to Green Revolution.
Share This Story, Choose Your Platform!