Dorce Prefabricated Building & Construction Inc. took its place in the 2nd SAHA EXPO Defense, Aviation and Space Industry Fair.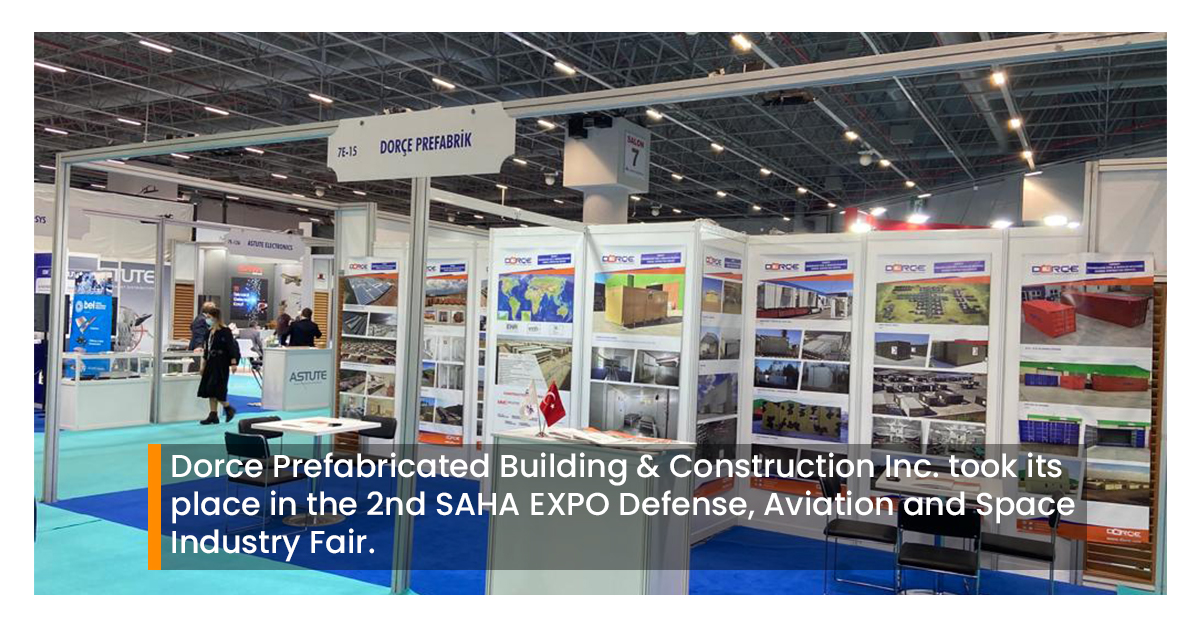 Dorce Prefabricated Construction & Buildings will host its visitors at Hall 7 / Stand 7E-15 within the scope of the 2nd SAHA EXPO Defense Fair, which will be held in Istanbul between 10-13 November 2021.
DORCE is at the center of the Turkish defense industry, as it is located in Ankara. The company has built a reputation for its projects completed in more than 60 countries on 6 continents. The prefabricated modular steel structures are designed, manufactured, and built on a turnkey basis for the needs of the defense industry. For more than 40 years, DORCE has been around as a solution partner for the armed forces, security forces, domestic and international defense industry organizations with turnkey prefabricated modular military camps, pre-engineered steel hangars, and customized design projects.
The latest technologies in the maritime and aviation industries will be exhibited
The latest technologies in the defense, marine and aviation sectors will be exhibited at the 2nd SAHA EXPO Defence & Aerospace Fair, which will be held with the participation of over 600 companies from 30 countries in Istanbul. The fair will bring together participants, international manufacturers and global product and service suppliers. The fair is supported by the Ministry of National Defense, the Ministry of Interior, the Ministry of Industry and Technology, the Ministry of Commerce and the Presidency of Defense Industries (SSB).
Dorce will exhibit its Aircraft and Helicopter Hangar projects
Dorce Prefabricated Buildings & Construction is the leading manufacturer of Aircraft and Helicopter Hangar projects in the Pre-Engineered Heavy Steel sector. The company successfully completed high-level projects such as the F-16 Hangar & F-35 Hangar using heavy steel construction systems, which were designed and built for the Japanese army in Djibouti. The projects were delivered on a turnkey basis including design, engineering, construction, superstructure, testing and commissioning. For more than 20 years, DORCE is an approved supplier of the United Nations, NATO, International Organizations, and more than 30 non-governmental organizations.
The Fruit of 40 Years of Experience and Competence, Airportable Containers (HTK)
These containers that can be transported by helicopter (HTK) are the first modular units in the world and are the result of DORCE's 40 years of knowledge (knowhow) and innovation, research and development (R&D) studies. The assembly of unique HTK modules which are can be done easily in only 2 hours. They are developed only by DORCE in the sector until now. Thanks to the new generation materials and rapidly developing construction technologies, they can be mounted in any environment by hand without the aid of any hand tool or equipment. HTK is designed to be easily transported to operation sites by Sikorsky helicopters and aircraft. These containers can be used as a full-fledged clinic, WC-shower, care and rehabilitation centers, office and kitchen.
The integral part of field solutions, Trailer Mounted Containers
Trailer containers completed by DORCE with modular construction systems have become an integral part of practical, flexible, fast and easy field solutions for multi-purpose use. Trailer modular containers converted from ISO sea shipping containers are field solutions used for Defense Industry as WC and shower containers according to demand after the design and production.
Share This Story, Choose Your Platform!