Dorce Prefabricated Buildings&Construction Inc. Creates Living Space in a Short Time with Plug & Play Modular Structures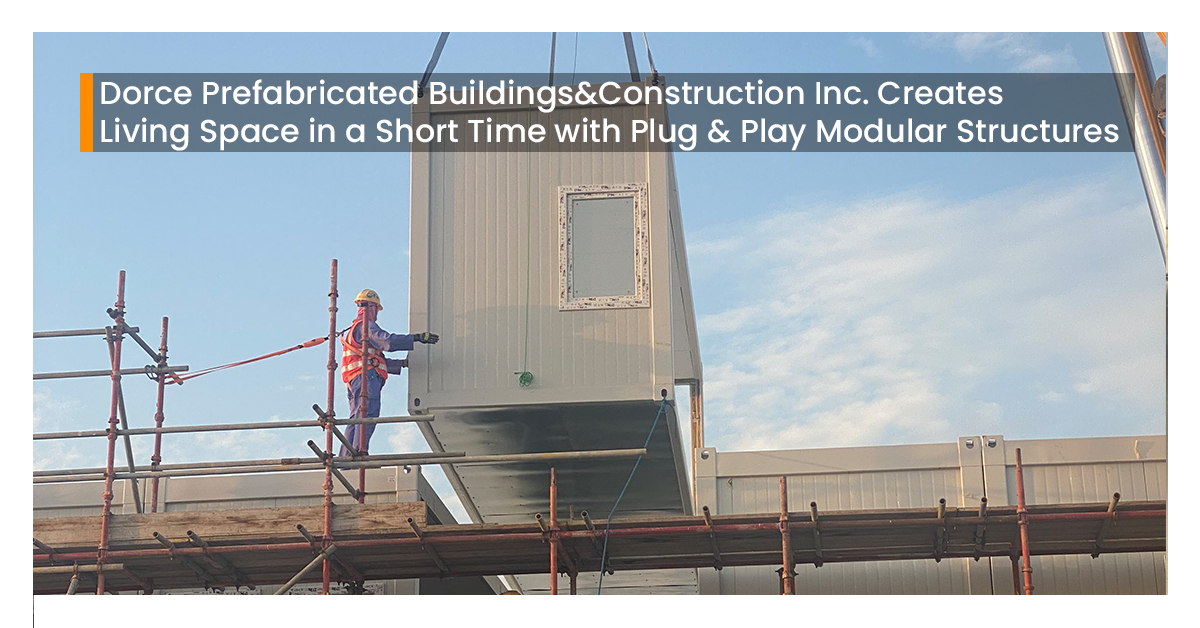 Dorce Prefabricated Buildings&Construction Inc. Creates Living Space in a Short Time with Plug & Play Modular Structures
The modular structures manufactured in Dorce's production facility are not only shipped to the field in parts. Within the scope of this system called Plug&Play, pre-fabricated structures are also manufactured as ready-to-use including the installations.
Plug & Play Modular structures continue to increase their usage area and rate day by day with the latest technological advances. These structures not only meet the need for shelter but also from energy production to agriculture, from telecommunication to heating-cooling systems.
Everlasting Site Works Will Be History
It is obvious that the construction site processes that took months will be a history in the near future. Modular structures that minimize carbon footprint, noise pollution and vehicle traffic accelerate this transition process. Structures that can be dismantled, transported and recycled without sacrificing durability are on their way to becoming essential for the speed and sustainability we need today.
Trailer Shower WC Containers in the Most Remote Areas
Trailer Containers, completed by Dorce with modular construction systems. These structures provide multi-purpose use as an integral part of practical, flexible, fast, and easy field solutions. Modular containers with trailers converted from ISO sea shipping containers; It is among the field solutions used especially for the Defense Industry.
We Host Over 100,000 People in Our Modular Refugee Accommodation Facilities
Dorce continues to successfully complete "Emergency Accommodation and Refugee Camps" projects in many regions of Turkey and the world.
Dorce has successfully completed a Refugee Container City for100,000 people in Turkey / Hatay Yayladağı & Boynuyoğun, Kahramanmaraş, and Adana in a short time, using ready-to-use Plug & Play modules shipped directly from the factory to different sites at the same time.
Mobile Hospital is at Service of Defense Industry
Dorce Prefabricated fully-fledged mobile field hospitals with latest technology can offer all treatment and emergency response capabilities including endoscopy, x-ray, ultrasound, orthopedics and general surgery. Mobile field hospitals are manufactured in a bullet-proof and explosion-proof design in accordance with all kinds of strategic and climatic conditions. These hospitals can also be equipped with alarm systems, heating-cooling systems, CCTV systems, security and warning systems. It is quickly set up for both routine surgical services and emergency health care services. It provides a quality and safe working environment for military medical personnel just like normal health facility in a very short time. It does not need a specially hardened floor. Dorce Prefabricated integrated mobile field hospitals, which are fruit of serious R&D studies, become ready to use in just 2 hours. It can be shipped by land, sea and air transport. The modules are supported by trailer solutions that allows safe loading and unloading, providing the armed forces and security forces with the advantage of mobilization during operations. In this context, Dorce Prefabricated manufactures Field Hospitals for the United Nations and Turkish Armed Forces, including NATO itself and NATO member countries in all of Africa, the CIS region, South America and the Middle East.
Accommodation Facilities Project in -40 degree climatic conditions
The volumetric (modular) structures produced by Dorce within the scope of the Copper Mine Worker Accommodation Camp Project in Aktogay, Kazakhstan, were produced as "flat-pack" in Turkey and assembled in the assembly facilities in Kazakhstan and shipped to the site in accordance with the Plug & Play philosophy.
Volumetric modular systems are used for structures that need to be completed in difficult climatic and geographical conditions, where speed and tenacity are needed. These types of building systems enable the rapid formation of larger interior volumes and larger structures by combining modules as "volumetric".
Share This Story, Choose Your Platform!