Dorce Prefabricated Buildings&Construction Offers Sustainable Low-Cost Solutions with Modern Methods of Construction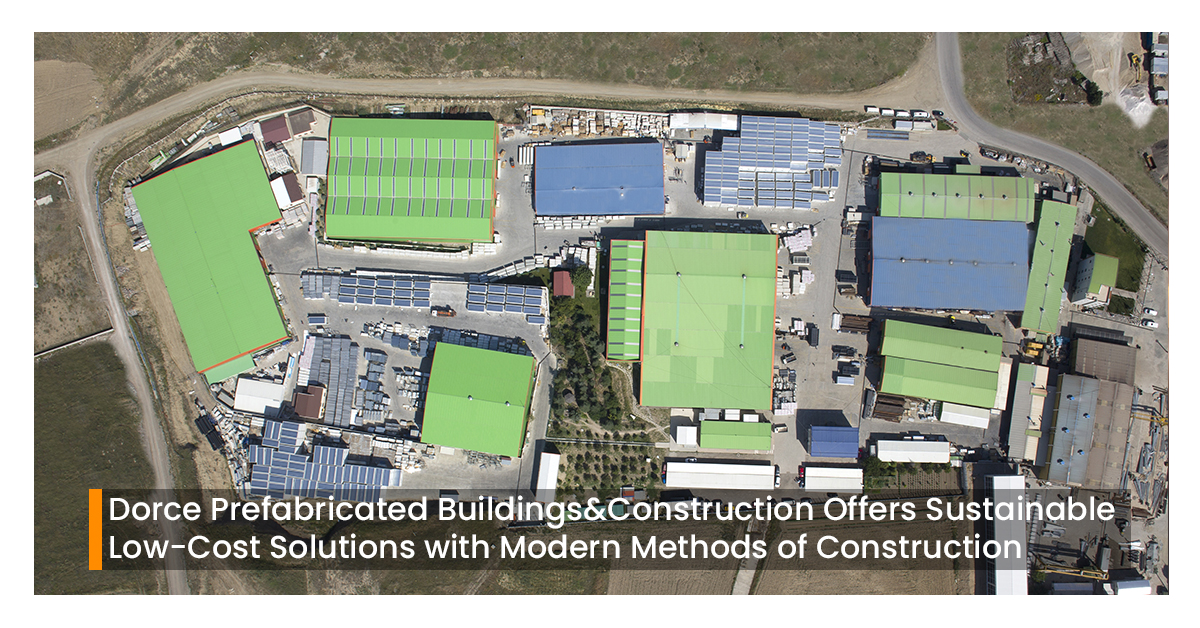 Dorce has completed turnkey projects in more than 50 countries with its experience of more than 40 years by adopting Modern Methods of Construction (MMC) in its projects. The Company manages the entire life cycle of a project in-house with its own team, by carrying out its design, production and construction activities from start to finish with Modern Methods of Construction, as demanded by our era.
The concept of Modern Methods of Construction first came to the fore after the Second World War as a way to produce more and better quality houses in less time to meet the urgent need of shelter. Today's latest technological developments and increasing awareness of sustainability issues have brought Modern Methods of Construction back to the top of the agenda.
In order to meet the needs of the 21st century and to take measures against global environmental problems, the construction industry has entered a transformation process together with other industries to discuss the concepts of sustainability and efficiency.
Modern Construction Methods, also known as MMC or "Smart Construction", is an approach that focuses on off-site construction techniques such as mass production and factory assembly as an alternative to traditional construction. Moving the production to the controlled factory environment, in other words, combining computer-controlled off-site manufacturing techniques and software with planning, design, developing technology and innovative materials is increasing efficiency and project delivery in a shorter time. To provide high quality, safe and sustainable solutions at a more affordable price by working in cooperation with supply chain partners.
A few examples of remarkable projects completed in the world with this construction method;
1000-Bed Hospital in 10 Days
The Chinese government quickly built a 1,000-bed hospital on a 25,000-square-foot site in Wuhan as part of its efforts to contain and treat patients suspected of contracting the coronavirus, in the blink of an eye.
The quarantine hospital was built using prefabricated elements and opened on February 3, 10 days after the start of construction
57-Storey Skyscraper in 19 Days
Mini Sky City is a 57-storey, 204-meter-high skyscraper in China that was completed in just 19 days. It has 19 courtyards, each 33 feet long, with an office capacity of 4,000 and housing enough for 800 families.
The 56-Storey Skyscraper in Singapore, World's Tallest Prefabricated Skyscraper
The 56-storey double skyscraper project, which is planned to be completed in 2026 in Singapore and will be the world's tallest prefabricated skyscraper, will be built with the Prefabricated Ready-to-Use Volumetric Construction (PPVC) method. The prefabricated towers will contain more than 1000 residences.
Countries such as the USA and the UK have started to put Modern Construction Methods at the top of their agenda in their future plans.
In order to bridge the gap between supply and demand and meet the needs of government housing initiatives, productivity in the housing sector needs to be increased. Being aware of this fact, some countries rolled up their sleeves to bring together the construction industry and today's technology.
UK government attaches great importance to Modern Construction Methods
In recent years the UK has provided substantial financial support to off-site construction methods, anticipating an increase in the number of projects using this method, particularly for public infrastructure. The ever-increasing demand for housing and criterion such as cost, quantity and quality are pushing industry and government to consider the MMC as a solution. The transition has gained further momentum as the government recognized that Modern Construction Methods had the potential to accelerate delivery, increase productivity and modernize the industry and incorporated it into its grand housing strategy.
The action plan is also prepared for the increasing housing need in Ireland. 150,000 houses in a 6-year period are planned to be completed, with 25,000 houses per year by the end of 2022.
Dorce is the Pioneer of Modern Methods of Construction in Turkey
Dorce completed many projects worldwide for the oil and gas, mining, defense industry, health sectors, government authorities (ministries, governorates, embassies, etc.), international organizations and non-profit institutions.  It offers sustainable solutions for the benefit of future generations by taking into account environmental values with the awareness of a green world view, and protecting the values of environmental protection in its projects.
Share This Story, Choose Your Platform!