Dorce is everywhere where life exists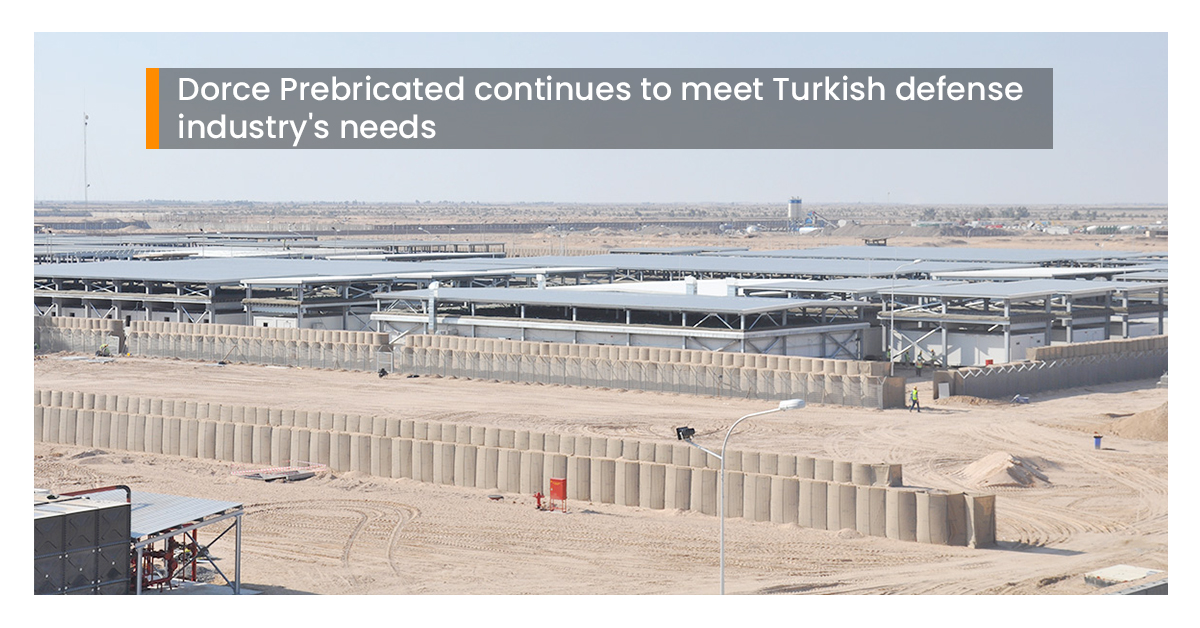 The importance and reputation of the prefabricated building systems in the global market are further increasing with each day passing in the light of recent developments, which is a combination of developing technology and production techniques.
Dorce Prefabricated Buildings&Construction carries out rapid supply and logistics and assembly services to the most challenging regions with tailor-made productions and high production capacity. Dorce undertakes projects for institutions such as the United Nations, NATO, and the Turkish Armed Forces in Africa, the CIS region, Middle East countries, and Turkey.
Dorce continues its R&D activities for the Defense Industry at full steam
For more than 40 years, Dorce has been offering turnkey solutions for military camps, police stations, containers with helicopters, and trailers (wards, clinics, WC-shower, rehabilitation centers, offices, and kitchens) and reinforced with special design projects such as portable living units. DORCE's products are preferred by the Ministry of National Defense, Turkish Armed Forces, Gendarmerie General Command, General Directorate of Security, ASELSAN, TUSAŞ, HAVELSAN and Roketsan in Turkey. DORCE has also established turnkey military facilities abroad in Iraq, Afghanistan, Djibouti, and Kosovo.
DORCE, developed portable "turnkey" solutions known as the "Airportable Container" for borders and military base areas and emergency and disaster areas in line with the needs of the defense industry. These containers can be easily assembled by hand in any environment, without the help of any hand tools or equipment. Our 40 years of know-how allowed us to transport them to the operation areas by Sikorsky helicopters and aircraft.
Our ultimate development on the basis of the defense industry can also be transported to all over the world as emergency settlement units after natural disasters such as earthquakes, tsunamis and floods, in order to provide oil, gas and mining exploration camps, and emergency health, shelter and food services in rural areas. These units are used as full-fledged clinic, WC-shower, care and rehabilitation centers, office and kitchen, as units that can accommodate 8 people with folding tables and chairs. It is designed to be bulletproof and explosion-proof in line with customer demands, and equipped with alarm, heating-cooling systems, CCTV systems, safety and warning systems.
The steel structure system solutions offered to the armed forces and security forces by DORCE are aircraft, helicopters, ammunition hangars, various warehouses, modular military structures, field hospitals, camp structures for urgent needs, border and military base areas, military living containers, modular cabins with trailers (living, infirmary, WC-Shower), helicopter transportable containers, prefabricated There are also products such as military wards, military lodgings, guardhouses, ammunition depots, military, and police training centers, military facilities resistant to the mortar attack, shooting ranges and armored cabins.
Dorce also manufactures and delivers structures consisting of pre-manufactured heavy steel buildings for many regions of the world. Dorce undertook the design and construction work for the Japanese army in Djibouti. Within the scope of the project, the F-16 aircraft type Hangar project was completed using heavy steel structure systems in a very short time.
Mobile Container Towers and Armored Security Cabins are at the disposal of the defense industry
Mobile Container Tower, one of the latest production of the Company's R&D studies, is designed to provide security in a short time by providing the opportunity to be installed in any area needed, such as military operation zones, military base areas, prisons, and border areas. It can serve even on 7 degrees inclined land.
The armored security cabin, on the other hand, is designed to be used at points where security needs to be ensured, such as consulates, governorships, district governorships, police stations, military buildings, police stations, bank centers and international meeting centers. Bulletproof materials are used in these cabins in order to provide comfortable working conditions while ensuring the life safety of the personnel with their ergonomic design.
Share This Story, Choose Your Platform!