Dorce Prefabricated offers multi-purpose accommodation solutions to humanitarian organizations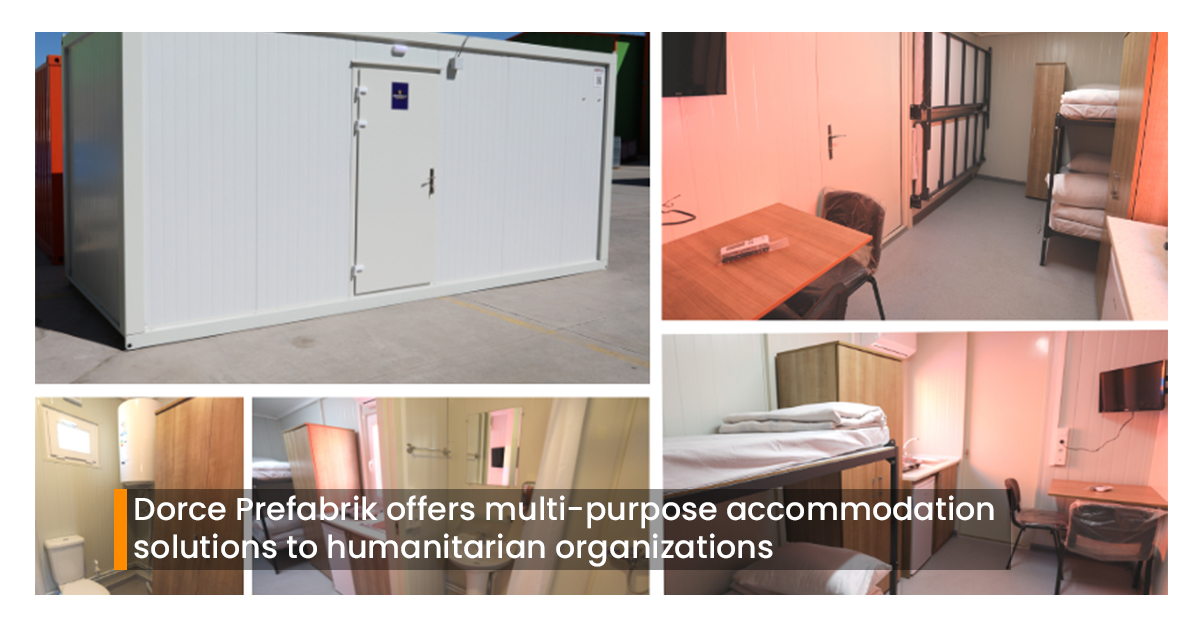 Turkish construction firm produces light steel construction systems for mass migration movements
Turkish construction firm Dorce Prefabrik produces innovative building materials that will increase the life comfort of end users who are victims of forced migration movements.
According to the company statement, one of the company's new products is the self-contained living modules with a four-bed capacity with folding bunk beds.
Under the project, the foldable bunk bed system was integrated into the container and the interior volume for free use was expanded.
Modules produced in a controlled factory environment are shipped to the field as flat-pack, saving on transportation costs, easily accessible to hard-to-reach areas, and can be installed on site very practically and quickly.
Containers can be brought together according to preference and turned into a multi-story structure with the possibility of easy installation.
An environmentally friendly sustainable solution is offered with these structures, which can be dismantled and re-installed to be used for other purposes.
This solution is preferred by all international humanitarian organizations, with the UN being the pioneer in forced migration movements.
Hundreds of containers are delivered each month under the framework agreement.
Also, as renewable energy, water heating system, and solar panel are integrated, it stands out as a suitable solution in dispersed areas.
Although these units are built for temporary use, they can serve as a dormitory, school, or clinic for many years by being brought together as they are modular structures.
The sound and heat insulation values ​​of the units have been equipped with much more permanent and environmentally friendly technologies compared to traditional building methods.
The panel thickness of the structures provides ease of use and actively serving for different purposes with a lifetime of up to 40 years.
The company, which has been the approved supplier of organizations such as NATO and the UN for more than 20 years, completes emergency accommodation units, earthquake housing, refugee camps, border camps, health centers clinics, rehabilitation centers, and social facility projects on a turnkey basis with its experience of more than 40 years in the sector.
Share This Story, Choose Your Platform!