Effects of BIM-Based Construction on Prefabricated Modular Steel Structures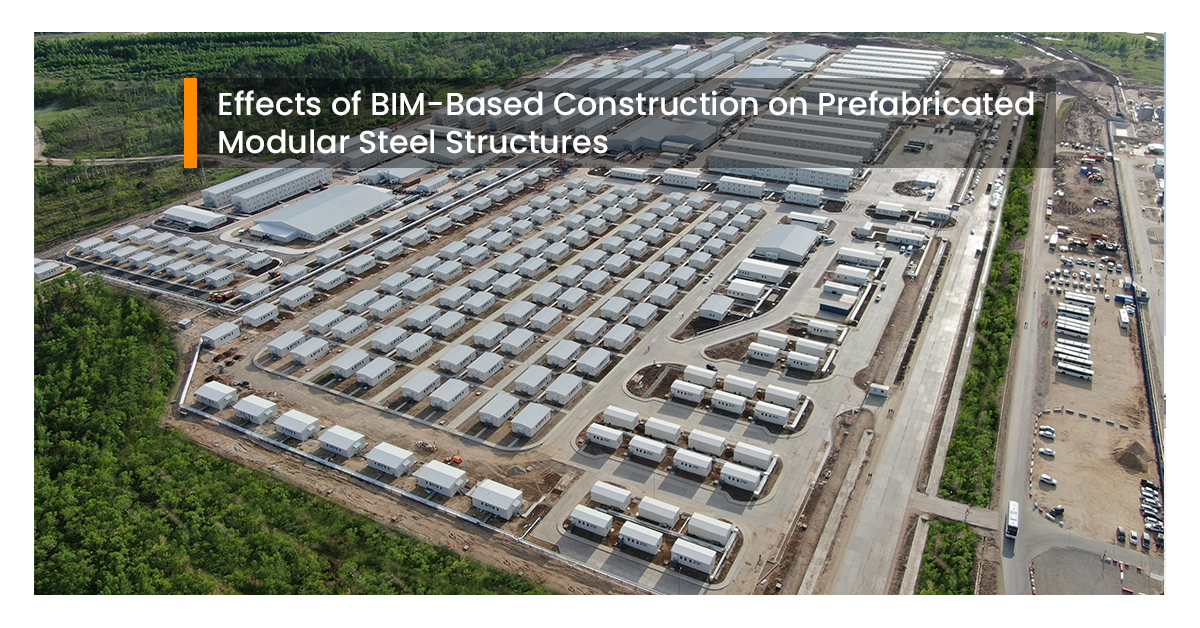 BIM is a digital way of working designed for the construction industry. It is beyond the software set or a 3D modeling process. It also includes the vast amount of information that makes up the project and the process of sharing the information with other interested parties.
Building Information Modeling (BIM) is the integration of people, technology, and processes for better outcomes in modern construction. BIM is a process in which project data is digitally created and managed in 3D. This data is integrated and coordinated throughout the entire life cycle of construction, from conceptual design to demolition.
BIM is the latest revolution in the building industry (Industry 4.0) and refers to the process of collaborative design, construction, and operation of a building using a single 3D model system rather than individual design drawings. Dorce brings together the human factor and technology to increase efficiency by saving time and cost in buildings such as skyscrapers, hospitals, offices, and residential buildings by this method.
BIM is beyond the software set or a 3D modeling process. It also includes the vast amount of information that makes up the project and the process of sharing that information with other interested parties. Previously workflows were relying on multiple file-formats and broken processes that quickly become out of sync when changes were made. Today, the BIM workflow provides a much more dynamic and synchronous approach to project management.
Why Use BIM?
DORCE Prefabricated Building and Construction, uses BIM in the construction processes for increased efficiency, reduced waste, and improved quality. In traditional construction methods, where teams move from one phase to the next in the project, some information from the previous phase is lost. In case for the BIM, information is digitally stored so that it can be accessed by anyone who needs it at any time and place. In other words, it is a constant flow of information. From early planning and design to construction, operation, maintenance, and recycling, every stage of the construction process is digitally recorded. This brings further efficiency, accuracy, and collaboration between business partners. We live in an era of automation. Each business process can be digitized and every decision can be driven by data.
Why is BIM important?
The dynamic integration of design, analysis, and documentation in the BIM workflow allows the effort of a design project to be shifted to the detailed design phase. Thus, engineers spend more time evaluating case scenarios, instead of documentation.
Innovative use of BIM technologies in every field including collaboration and information sharing tools opens new possibilities for better efficiency, accuracy, collaboration, and cooperation between the parties involved.
DORCE manages entire lifecycle of a project with in-house design, construction and operation services by using Building Information Modeling (BIM) rather than traditional methods, by catching the necessities of the era with Modern Methods of Construction (MMC)
What are the benefits of Building Information Modeling (BIM)?
Facilitates the bidding process basing it on accurate take-offs of the building materials
BIM model includes comprehensive 3D modeling of all structures and Mechanical, Electrical, and Plumbing Systems (MEP) and building owners can accurately evaluate proposals with detailed quantities. Therefore, the total bid price will reflect the exact costs of the building materials rather than the estimates.
Significantly reduce carbon emissions during construction
Today, building owners prioritize sustainability. A quantity take-off based on a 3D BIM model rather than 2D drawings provides much more accurate results. This allows architects and contractors to better define the exact quantities of building materials required. When this estimate is correct, the pre-tender budget will be closer to the final budget thus a significant reduction in material waste can be achieved. An accurate calculation directly affects the energy, resources, and travel time required to obtain building materials, resulting in significantly lowered carbon emissions.
In addition, DORCE Prefabricated Building and Construction uses eco-friendly building materials that reduce waste production and environmental impact in its projects. Prefabricated modular steel structures built within the scope of BIM and Modern Construction Methods offer a sustainable future.
Optimized mechanical, electrical and plumbing systems at the design stage reduces electricity and water consumption during operations
From a general overview, buildings are mostly made up of manufactured products. Mechanical, electrical and plumbing can be tested and designs can be easily revised when product manufacturers' specifications are incorporated into the BIM ecosystem in the early design phase. Improved system efficiency will benefit stakeholders after construction is complete.
DORCE has adopted the 'Plug & Play' philosophy in its projects. It completes a building from its production to the final assembly in a factory environment. Buildings are sent to any region as one or more 'modules' including final connection lines such as sanitary and electrical installations. Each module is shipped to the site on a turnkey basis, in other words, they are fully equipped with interior and exterior cladding elements, wall panels, roof, flooring, bathrooms, kitchen equipment, lighting etc. After the modules are shipped to the field, they are ready for immediate use, either individually or combined, depending on the intended use.
An accurate BIM model of a building makes it easy to get crucial feedbacks through informative previews and virtual reviews. Incorporating the occupants' perspectives during the design phase results in more successful buildings.
Share This Story, Choose Your Platform!