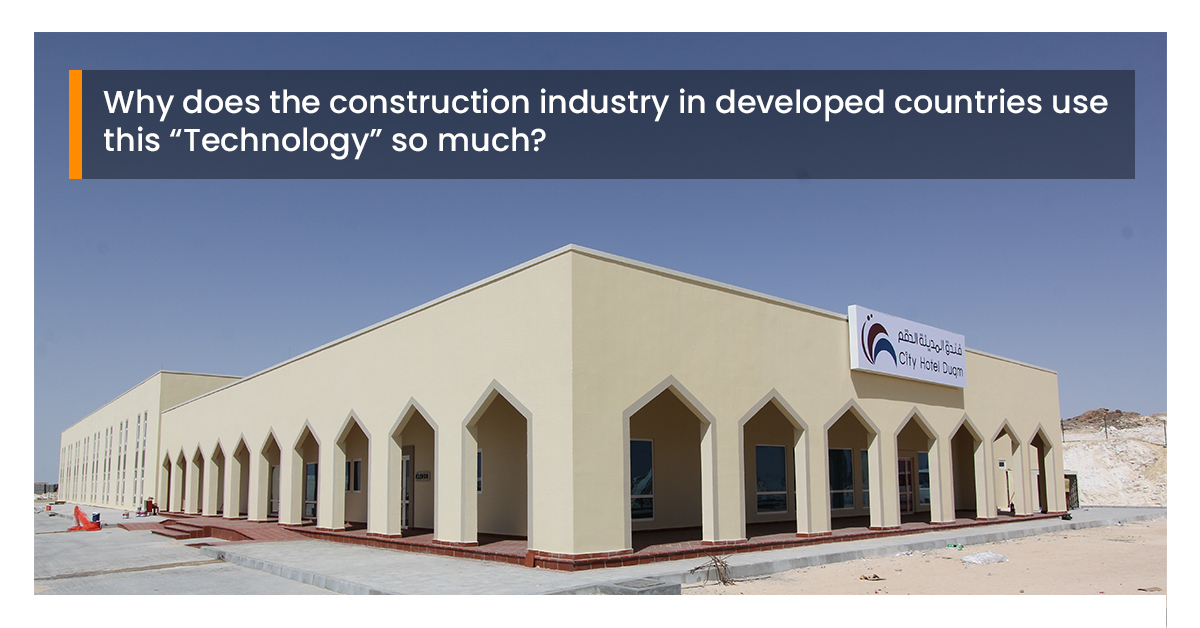 How popular is technology today and why ?
"Modular buildings are formed by the combination of one or more prefabricated modules. (Also defined as block-containers). Since modular buildings are also used as temporary structures in projects, they can be installed without a foundation, easily dismantled and moved to another site. Various designs can be applied according to all kinds of climatic conditions and all needs from fire, plumbing, heating and ventilation system to electrical equipment can be met.
Why does the construction industry in developed countries use this "Technology" so much?
Prefabricated Modular building is a process in which a building is produced off-site using the same or similar materials, codes and standards commonly used in traditional construction sites. However it is manufactured and built about twice as fast as conventional buildings. Modular buildings can meet the same design concept and technical performance as the most demanding traditional buildings built on site.
Modular structures can be built both temporarily and permanently without using a foundation and limitation of 4 floors. They are among the rising trends of recent years as structures that are indistinguishable from complex buildings built in a traditional construction site.
For example, the 15-storey Ark Hotel built in China was completed in only 46.5 hours, excluding decorations and coatings. 90 hours were spent on siding and interior decoration. 15-storey hotel project was completed in less than a week! In China, not only the constantly increasing population is known, but also how to provide housing for this population in the most practical and fastest way.
Today, modular structures are based not only on the assembly of ready-made "box rooms" or other volumetric building elements, but also on more microstructural elements produced in the factory.
What advantages does "Modularization" have?
Experts share many important information about the advantages of modular structures with us. Some of these are listed below;
Structurally, modular buildings are generally stronger and more durable than structures built with other methods because each module is designed to withstand the construction site and crane installation on site, even very harsh and tough transportation conditions. The combined and fixed modules are transformed into prefabricated walls, floors , roofs and building in the end. The main structure is just as durable and reliable as the modules that form it.
For example, it was produced as "flat-pack" in Dorce's production facility located in Turkey, then transported to its factory in Kazakhstan and turned into a volumetric structure there. The volumetric structures created later were sent to the area where they were used to form the modular main structure by adjoining units. The modules produced for the integrated accommodation camp in Aktogay – Ayagoz region of Kazakhstan, were successfully shipped to the construction site within the scope of the Copper mine project despite the challenging climate conditions such as -40 degrees, tough road and transportation conditions.
Off-site construction ensures better qualified management for the construction process.
Off-site construction ensures better qualified management for the construction process. Materials delivered to production facilities are stored safely and securely in warehouses and hangars to prevent damage or deterioration from moisture and other adverse weather conditions. Production facilities implement strict quality control programs that encourage high-quality modern construction at all phases.
In addition to managing quality control processes and shortening construction times, modular structures have many different advantages.
The execution of production and construction activities in the factory environment significantly reduces the possibility of accidents at the construction sites and reduces the vehicle traffic on the access roads to the site. (Transportation of ready-to-use modules to the site instead of bringing each building material separately)
Modular Structures and their current applications
In the western world today, modular buildings are generally considered as "construction under declining economic conditions" due to prejudiced approaches.
However, the fact is different. The modular construction method allows the construction time to be reduced by 30-50% and offers an alternative and effective solution in today's tough market conditions. In this case, "economic" does not mean "primitive".
Today, modular construction is not just a building type. It is a sustainable and innovative construction method that has evolved with the latest technology. Modern modular construction technology has exhibited its difference from other construction methods in this respect.
Up to 90% of the modular structures are completed in the factory environment.
While the modules are manufactured in the factory environment, works such as laying the foundation or connecting the public service networks can continue simultaneously on the construction site. This significantly reduces the total time required for a complete construction. This is one of the reasons why constructions made with modular structures are completed much faster than traditional construction methods.
After the modules are ready, they are sent to the construction site and assembled there. The final stage includes processes such as building and roofing, interior decoration and elevator installation are done on construction site.
It is almost impossible to distinguish from traditional structures
Today, residents cannot predict the construction method used for most of the modular buildings completed to be used as school, hospital, shopping mall, hotel, dwellings and so on.
The art of modular building is the disapperance of "modularity" as soon as the construction is completed.
For example, the "Victoria Hall" student residence located in Wolverhampton-England is the tallest modular building in the world, with more than 25 floors. These types of modular buildings are designed in any size and are easily expandable with today's constantly developing technologies, construction methods and vision.
The prefabricated modular building methodology is used in the construction of high-rise residences in New York, Yale University student dormitories, hotels, hospitals, in short, in different sectors all over the world. Although the prefabricated modular building technology has some "bias" problems in the first place, today, 98 percent of contractors, 98 percent of architects and 99 percent of engineers abroad are trying to use and develop prefabricated and modular construction methods.
Dorce, as one of the pioneer and first established companies of the prefabricated modular building sector in Turkey, provides hospitals, schools, workers living cities, dormitories, military camps etc in different parts of the world with both contracting services and prefabricated modular construction technology. It completes its projects within the scope of Modern Methods of Construction (MMC).
Share