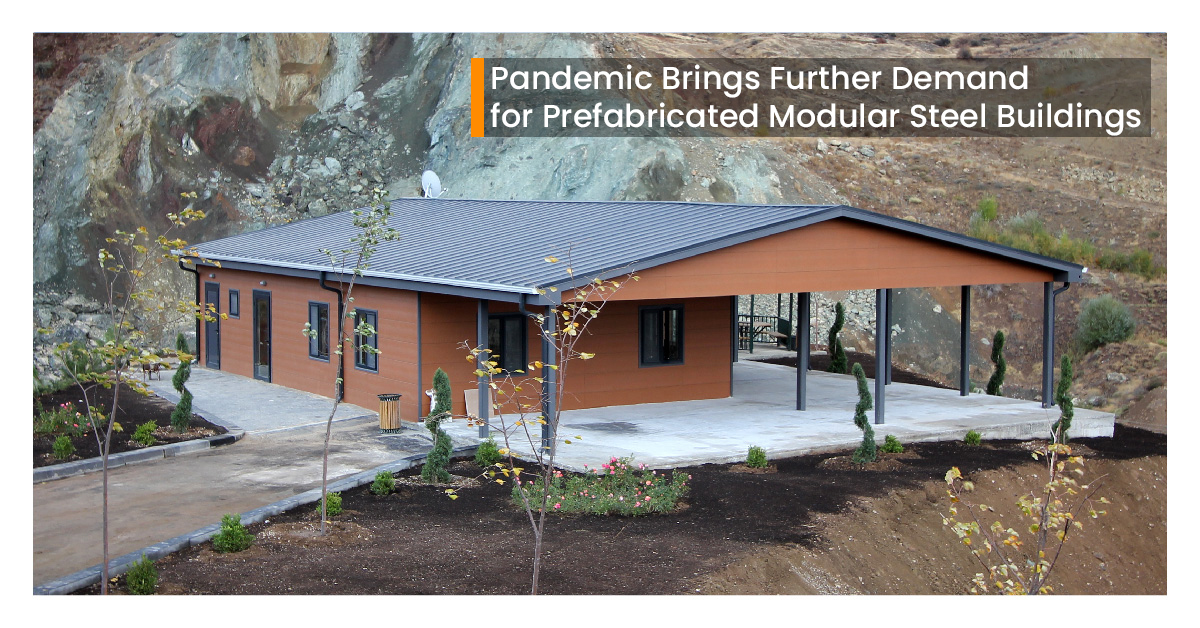 Pandemic Brings Further Demand for Prefabricated Modular Steel Buildings
Prefabricated modular buildings have become the shining star of the contracting / construction industry with the pandemic. Perception and approaches towards prefabricated modular steel structures continue to change.
In the past, what spring to mind when it comes to prefabricated modular steel structures are;
–  Single or double storey portable cabins,
–  Monotype containers used as worker living accommodation on construction sites,,
–  Simple equipped buildings that meet instant needs after natural disasters such as earthquakes, mass displacement movements and emergencies,
–  Villas designed as private properties with panel system.
Today, the Covid-19 epidemic, which spread rapidly all over the world and affected our lives in a very short time, has led to some changes and some innovations in the field of contracting, as in many sectors. When examined on a sectoral basis, "prefabricated modular buildings", which have been key trend and widely used in many parts of the world for many years, have become the shining star of the contracting / construction sector with the pandemic.
Unlike traditional construction techniques, prefabricated modular building systems are preferred.
Today, factors such as;
– Fast assembly of building elements in construction site,
– Recyclable eco-friendly structures,
– Cost control,
– Time saving,
– Increasing the labor cost of traditional construction methods in difficult geographies where access to raw materials is challenge,
– High labor costs in developed countries,
Thrust the prefabricated modular building systems into forefront instead of traditional construction techniques.
The importance of prefabricated building systems and their reputation in the global market have been increasing rapidly with constantly advancing technology and developing manufacturing systems. These structures stand out when it comes to the situations such as earthquake and disaster areas, projects that need to be done very quickly, projects carried out simultaneously in different locations or projects that require high organizational skills in regions with impossibilities where materials cannot be found. Bu durum için – The following structures can be cited as example;
Housings,
Schools,
Dormitories,
Hospitals,
Field Hospitals,
Clinics,
Police Stations,
Prisons,
Living cities and worker accommodation camps in oil-gas & mining fields,
Integrated refugee facilities,
Military camps & bases,
Border camps,
Aircraft & Helicopter Hangars,
Ammunition Depots,
Polygons and training centers
We have become a sought-after company with our motto "DORCE can where others cannot!"
Dorce stands out as a worldwide known brand of Turkey in prefabricated modular steel structures. It can produce according to the needs that arise in every region of the world with its high production capacity, fast supply processes and logistics-assembly capabilities. Today, Dorce is Europe's largest manufacturer of prefabricated modular buildings. Its production facility located in Ankara / Turkey complies with local and international quality standards. Dorce, with exclusive turnkey solutions, is a sought-after company with its motto "DORCE can where others cannot!" in projects that require high speed, engineering and organizational skills. Its superstructures are preferred in more than 60 countries. It has branchs and affiliated companies in 15 different countries. Today, even during the pandemic period, we continue to export our superstructures to 6 countries.
Dorce completed Hospital projects in Venezuela, labor camps / quarters in Malaysia, housing projects in Australia, high-capacity worker living cities in Africa, CIS and Siberia.
Experience of doing business in different geographies has carried Dorce to the position of leading exporter company in its sector today. The reason why it is the first company that springs to mind in terms of project diversity and references is the projects it has successfully completed so far and the work completion certificates it provides as a result of these experiences. Dorce is a global company that has successfully completed various projects for the world's largest oil, gas, mining and renewable energy companies, non-governmental organizations and public institutions in Africa, CIS and Siberia, In addition to projects such as hospital in Venezuela, labor camps in Malaysia and housing projects in Australia. When we look at Dorce's sectoral experience;  projects that require large scale and high production capacity such as worker living cities with a total capacity of 42,000 people in Abu Dhabi, refugee living facilities for 100,000 people on the Turkish-Syrian border, and a 20,000-person labor camp of a gas processing plant in the Siberian region of Russia come to the fore. The most important feature of these projects is that they were successfully completed while racing against time despite challenging climates and geographies.
Share This Story, Choose Your Platform!