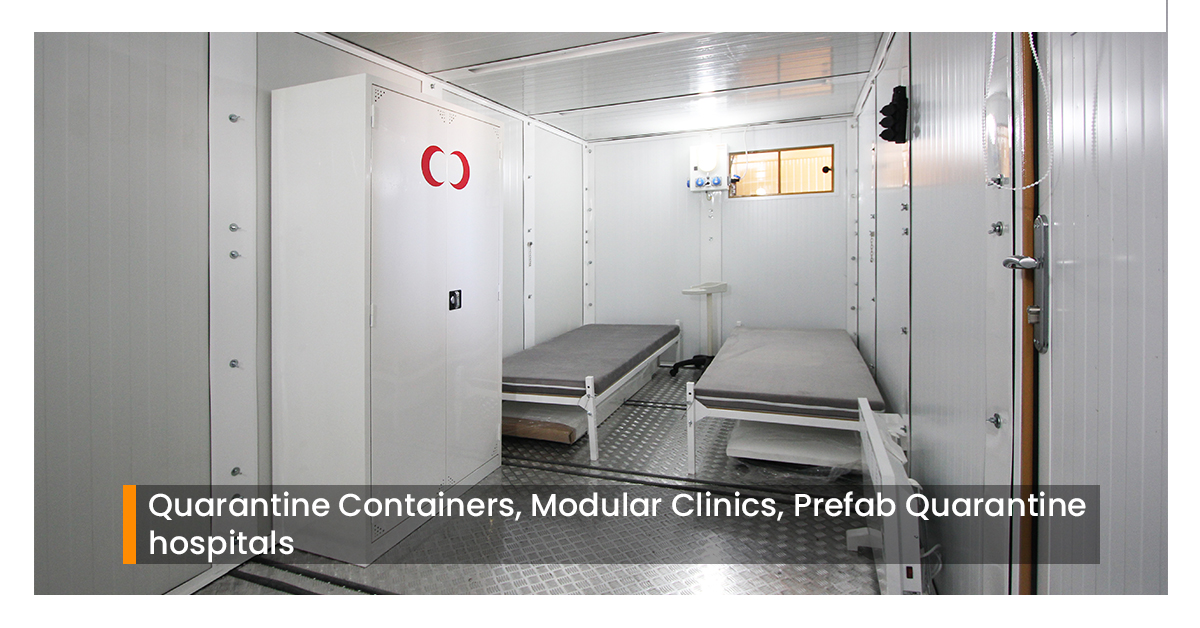 Quarantine Containers, Modular Clinics, Prefab Quarantine hospitals
DORCE Inc., is one of the largest manufacturer with the highest capacity of Europe and Middle East on prefabricated steel structures, has designed Covid-19 quarantine clinics, medical health units, modular emergency and intensive care units and quarantine containers, with the help of its own design and R&D departments in accordance with customer requirements and practical assemby.
Dorce Inc. supplies all these products rapidly and provides turnkey solutions to the most remote locations challenging by health problems and require urgent response.
What is the difference between isolation and quarantine?
While the term isolation bears the same meaning as quarantine; quarantine prevents infected people from spreading the disease by keeping them away from the healthy people around them. Isolation, on the other hand, implies that non-sick people isolate and protect themselves so that  they do not become infected at the end of the day.
Modular Clinics and Containerized Hospitals
Manufactured off-site, the modular steel construction hospitals can be installed quickly and efficiently and at the same time providing excellent durability and strength what makes them significant for use in various ways – from permanent clinics and hospital buildings to temporary medical centres and mobile military health clinics.
Prefabricated and modular buildings for medical use are beneficial for critical medical applications because they provide reliable building strength and quality to ensure the safety and well-being of all patients.
Recently, with the spread of COVID-19 outbreak that affects the entire world, Dorce Inc. tries to alleviate as much as possible the moral and economic damage of the epidemic by leaning on its sectoral products, full-fledged services and experiences in the medical sector.
Hereby, We have developed prefabricated COVID-19 units, mobile hospitals, medical facilities, clinics, health centers, emergency health units, modular COVID-19 units, mobile hospitals, emergency units, Covid-19 Cabinets, Covid-19 Containers, Medical facilities with surgical first aid units Quarantine Containers, Medical Containers, Quarantine Containers, intensive care units and already started manufacturing and will rapidly install and supply to many different locations in the world.
Our Light Gauge Steel Modular Containers and Structures can also be used as many health support units and emergency intensive care units.
Mobile blood donation units
Mammographic, X-ray, MR units
Mobile Laboratories, modular immediate medical response units
Mobile Oxygen support rooms / units
The ease of installation and assembly of mobile and containerized hospitals is combined with Dorce's experience doing business in remote regions and challenging climatic conditions bringing many contributions that we offer to the healthcare sector for the struggle against both nowadays COVID-19 outbreak and emergency medical situations.
Share This Story, Choose Your Platform!