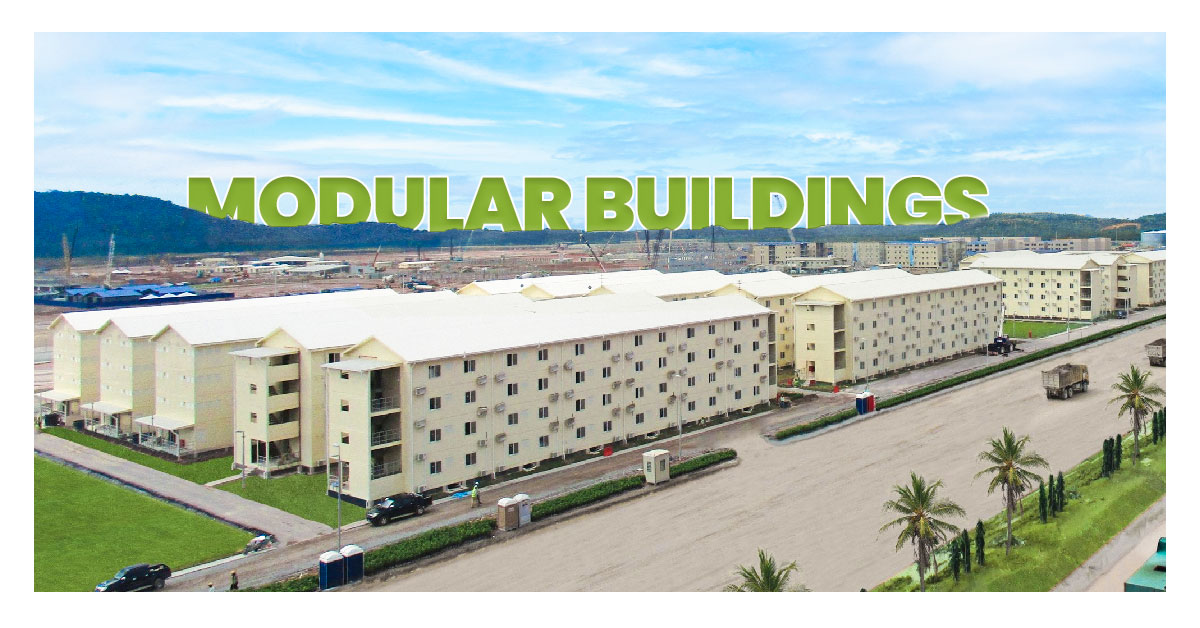 Rising Star of The Contracting Sector: Modular Buildings
The coronavirus epidemic spread rapidly all over the world and affected our lives in a very short time. This fact has led to some changes and innovations in many sectors. When we examine it on a sectoral basis, "prefabricated modular buildings", which have been in the position of "trend topic" and widely used in many parts of the world for many years, turned into the shining star of the contracting / construction sector throughout the pandemic process.
In today's world, many criteria such as high costs, the rapid assembly of ready-made building elements on site, eco-friendly and convertible structures, cost control, time saving, high labour costs of traditional construction methods in developed countries and challenging geographies where access to raw materials is difficult make prefabricated (pre-manufactured) modular building systems stand out rather than traditional construction techniques.
The market share of "Prefabricated Modular Buildings" is expected to reach 19.3 billion dollars in 2024 with a compound annual growth rate (CAGR) of 4.6% from 2019 to 2024.
In addition, with the traditional construction methods coming to a halt due to the Covid-19 outbreak, prefabricated modular building systems are also preferred within the framework of the following facts;
In modular building systems, interaction on sites is much less comparing to worker interaction in traditional project sites, since only the assembly teams work on the sites. In addition, another advantage of modular building system is minimizing the Covid-19 risks thanks to the distant and controlled production carried out at the factory environment.
As the epidemic is brought under control, although social distance measures are beginning to be gradually lifted by institutions such as state authorities & governmental bodies, relevant ministries that give construction decisions and approvals, private and public companies, etc. large crowds of people will not be allowed for a long time.
Pre-manufacturing projects can be prepared for the production of building modules. When the construction activities return to normal after the coronavirus epidemic, the production and assembly of the previously prepared modules in a shorter time makes it possible to compensate for the lost time.
When it comes to prefabricated modular structures, the first to come in mind are generally single or double-storey portable cabins, single-type containers used as worker accommodation facilities on construction sites, earthquake units, emergency units in mass displacement movements, etc.,  buildings that are established after natural disasters and emergencies and have the simplest equipment to meet the current needs or villas designed as private property with panelised system. In developing countries with rapid urbanization and developed countries such as England, Australia, Canada and USA, modular building systems are used in many sectors. Prefabricated modular buildings can be used as multi-storey buildings with developing technologies, such as hospitals, shopping malls, social and luxury residences, administrative buildings, hotels, dormitories, schools, clinics, etc.
Last year, two residential projects consisting of two 40-storey (approximately 140 meters high) towers in Singapore were built with 1,900 prefabricated modular systems. A large part of the project was produced off-site in Malaysia before the modules were placed, and then the modules were moved to the site and implemented according to a sequencing program designed to form the structure. Thus, since 50% of the project is industrialized outside the site, time loss due to bad weather conditions is minimized. Each module is produced under quality control standards, and it is possible to check before delivery, and it has been observed that the loss at the site has been reduced by around 70% thanks to such processes and methods.
Thus, it would be correct to say that prefabricated modular structures, which can be manufactured and completed off-site, can offer solutions that can fully meet the expectations, from design to the production of final modules with each passing day.
Dorce is the one of the biggest player in the market with more than 40 years of experience, offers prefabricated light gauge steel modular and pre-engineered steel construction building systems that can be designed in accordance with versatile areas of use to meet all kinds of needs with its experienced Design, Engineering, R & D and Project management teams. Dorce exports itis products in more than 60 countries on 6 continents.
Share This Story, Choose Your Platform!