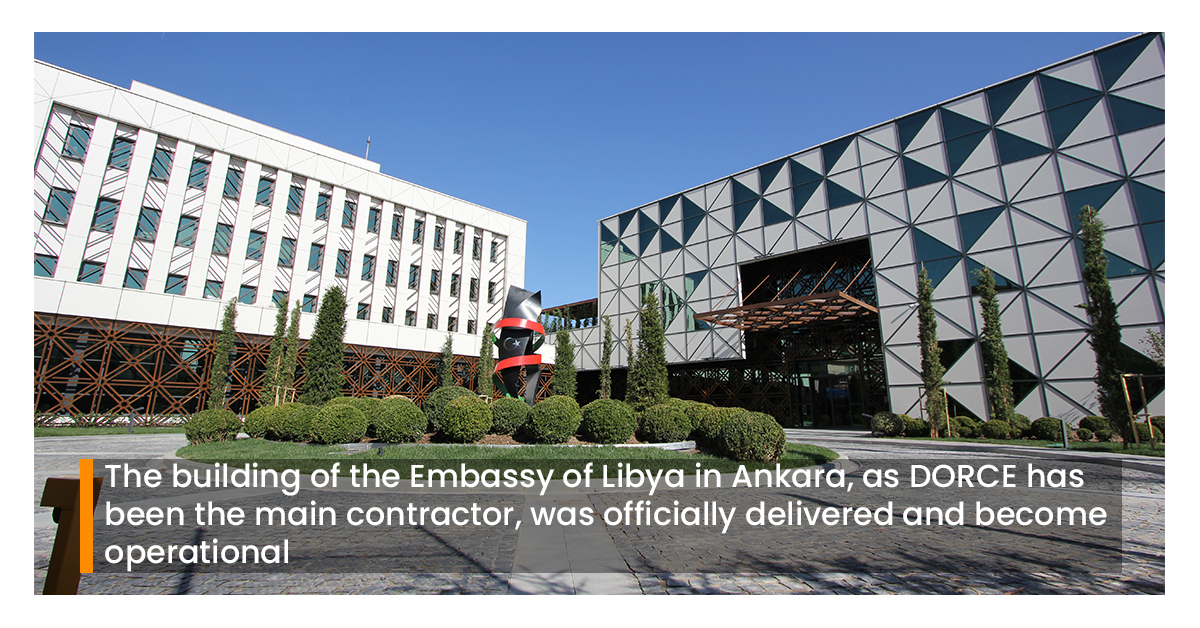 The building of the Embassy of Libya in Ankara, as DORCE has been the main contractor, was officially delivered and become operational
Libya and Turkey have deep-rooted relations based on a hundred years. First steps of the relations were developed during the Ottoman period when Tripoli has been attacked by Knights of St.John and Spaniards, therewith, the people of Tripoli sent a delegation to the Suleiman the Magnificent with the aim of express the support they were expecting for, which resulted with the rescue of Tripoli and support Libyan people to build relations between Turkey and Libya on a solid ground.
Founded on December 24, 1951, the State of Libya was immediately recognized by Turkey, which led to further strengthening of relations between two countries day by day. Today, the relations between Turkey and Libya continue to maintain its highest level. The Libyan Embassy in Ankara is considered as one of the oldest embassies. Therefore, the Libyan Embassy has decided to totally renovate the old building and with the beginning of the demolition process in January 2018, consequently, in a short span of 16 months, the Libyan Embassy built a building symbolize the strong relationship between Turkey and Libya.
Every detail of the building has been carefully elaborated and all employees and visitors are expected to feel themselves in a peaceful and friendly structure. Apart from the offered private rooms for the employees, also guest lounges, meeting rooms, conference and reception halls are provided inside the Libyan Embassy building while in the construction of the building, companies and consultants have been involved from the friendly nation – Turkey.
Therefore, the Libyan Embassy would like to sincerely thank the contractor company DORCE, consultancy company BEŞER and interior design expert Mrs.Elif for their valuable contributions.
Share This Story, Choose Your Platform!