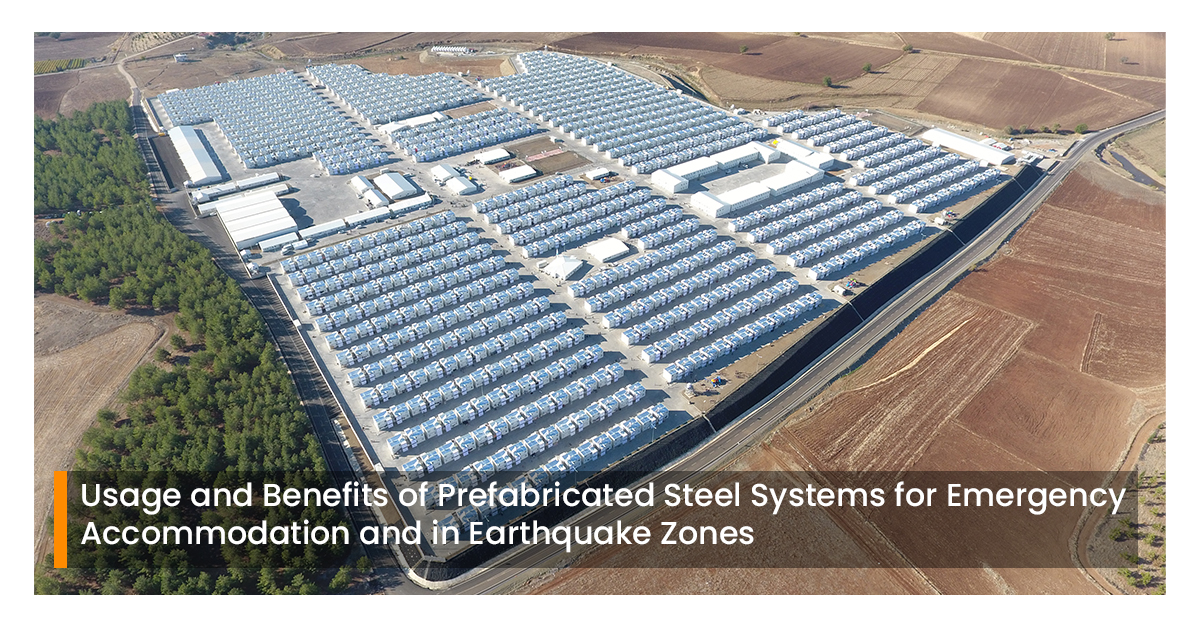 Usage and Benefits of Prefabricated Steel Systems for Emergency Accommodation and in Earthquake Zones
It is not possible to ignore the positive and productive contributions of the developing and constantly renewed technology of the prefabricated sector, which continues to be intertwined with the industry day by day in the world. The fact that the speed factor comes into the prominence in almost every sector today increases the preferability of prefabricated buildings.
Dorce, as a company that has proven itself in prefabricated steel structures for many years in global and local markets, is known as the largest manufacturer of Europe and the Middle East.
The world's many countries, including Turkey, are exposed to seismic activity. Unless buildings are designed to withstand earthquake damage, significant structural damage or complete collapses can occur, especially in reinforced concrete buildings. One of the biggest reasons of this situation is that concrete is a heavy and brittle material and shows cracking and fracture reactions in sudden stresses. In this context, the lightness of steel buildings, their ability to absorb energy and ductility in sudden stresses have gained importance in the use of light steel systems as the main structural material in earthquake-resistant buildings and provides great advantages to users.
Based on experience, it has been observed that prefabricated steel structures designed in accordance with the conditions of the region perform better than reinforced concrete structures when exposed to earthquakes. Significant structural damage, collapse, as well as casualties and loss of life have been common in older masonry and reinforced concrete buildings that are not designed for earthquakes and natural disasters.
In recent years, the refugee crisis that can be called 'top of agenda' has serious repercussions in all political, social, economic and cultural sense not only in Turkey but also in the world. Especially refugees influxes to neighboring countries such as Turkey, and therefore the urgent need for residential housing, made the importance of prefabricated steel structures become apparent, which is defined as fast, economic and practical.
Advantages of using steel frame buildings as emergency settlement and earthquake-resistant houses:
Steel is safe against earthquakes. The flexibility and deformability of steel enables the structure to survive the earthquake without damage, saving lives.
Steel is the most ductile building material. What is meant by ductility? It is the ability of steel to deform a lot before it breaks or collapses. This feature provides a great advantage in terms of security in the event of an earthquake.
Systems made with steel material are more ductile than systems made with other materials. In other words, the earthquake energy absorption capacity is higher. Tensile and compressive strength are equal. For this reason, it is a good solution for systems that cannot be made with materials with lower tensile strength.
As in other building systems, assembly works are carried out at the construction site unless there is a very abnormal weather condition. For this reason, the construction period is short.
Considering the urgency and time factor after earthquakes and natural disasters, it contributes to the provision of humanitarian aid as soon as possible. It is produced quickly in production facilities and assembled in a short time and shipped as installed to the relevant field, minimizing it for the field and saving time. Only electrical and mechanical connections are made in the field of containers sent as installed.
In cases where installation is requested on site, containers or buildings are packaged in disassembled form, shipped and assembled on site.
It has a system that can be quickly disassembled, portable and reinstalled. In addition, it can be stacked on top of each other, multi-storey structures can be created and combined and intermediate panels can be removed to create much larger and more efficient living spaces.
Galvanized steel has a lifespan of 300 years when coated with coating materials from the inside and outside. Even in the most humid areas, it does not rust for years and preserves its first day resistance. Therefore, it has been determined that long-lasting steel structures resist corrosion for more than 100 years.
It is easy to renew. Provided that it is designed correctly, it is easy to make horizontal and vertical additions to the steel structure, to climb new floors and to remove certain parts. In systems with large openings, distances that cannot be crossed with other building materials can be easily covered with steel.
Due to the structure of the steel, the earthquake load that the steel will be affected by become less. The earthquake energy it has to absorb also become less.
Steel structures are much more flexible and lighter than reinforced concrete structures. Thanks to this, it is exposed to lower earthquake loads. Since the foundations will be designed for light loads, savings are made.
Steel is not only resistant to earthquakes; when adequate precautions are taken, it is also extremely resistant against moisture, lightning, fire, corrosion, storm, and harmful insects.
Steel is an environmentally friendly material that does not harm the environment during the production and use phase. It is 100% recyclable and does not leave any waste or residue. It is a building material required for sustainable construction. The Green Building defined today can be provided with steel.
The advantages that provide real comfort to the users are the ability to easily implement all kinds of classical and modern architectural projects, alternative richness in interior and exterior coatings, to meet hygiene, maintenance, renovation and change requests.
In the past years, Dorce, due to the major earthquake in Van, completed a total of 3,150 emergency life units for the earthquake region in a short period of 1 month and provided living space for 18,000 people. In addition, in the 2016 Çanakkale earthquake, it provided a closed and warm living space for approximately 700 people with 100 emergency settlement containers in one day.
Systems developed by Dorce with its high production capacity, design and R&D center; they have been used and continues to be used in the projects of official and private sector organizations such as the United Nations, NATO, Disaster and Emergency Ministries.
Systems developed by Dorce with its high production capacity, design and R&D center; have been used and continue to be used in the projects of official and private sector organizations such as the United Nations, NATO, Disaster and Emergency Ministries.
With these examples and more, Dorce. has been working in 52 countries and 6 continents in very difficult climatic conditions as well as political instability, civil war etc. It has demonstrated its ability to do business under humane conditions and continues to present it today in Africa, the Middle East, Central Asia, Europe and the local market.
Share This Story, Choose Your Platform!