What is MMC – Modern Methods of Construction?
"Turkey's Global Brand: DORCE" in Modular Buildings, Where Construction Evolves With Technology
Traditional construction methods evolve into prefabricated steel modular construction with developing technology and materials.
The advantages of digitalization, which is a requirement of 4th Industry revolution (4.0), force the construction industry to reduce costs by using new technologies in order to be more competitive in the international market. The production of building elements in factories brings significant advantages in terms of quality control, transportation and speed. This fact make the use of steel common in construction industry and make the steel become a building element of industrial product with each day passing. Technically, this new era make modular structures inevitable. Beside technical reasons, steel and modular structures are the future of the construction industry with the change of social needs, thanks to the steel's recyclability and sustainability.
Modular building systems developed within the scope of Modern Methods of Construction (MMC) are already used in many sectors in developing and developed countries where rapid urbanization is experienced throughout the world. With developing technology, multi-storey prefabricated modular buildings can be used as hospitals, shopping malls, social and luxury residences, administrative buildings, hotels, dormitories, schools, clinics and so on.
What is MMC – (Modern Methods of Construction)?
The term Modern Methods of Construction (MMC) is a building system that allows the reduction of construction time and cost in line with the new needs emerging in today's construction industry. It is the revolution and industrialization of construction by combining computer-controlled off-site manufacturing techniques and softwares with planning, design, developing technology and innovative materials.
Another vital component of Modern Construction Methods (MMC) is Design for Manufacturing and Assembly (DfMA) and Designing for Industrialized Methods of Construction (DIMC). It is an engineering methodology that focuses on reducing the time to market and the total costs of the entire project as of the early design stages of the product life cycle, by giving priority to both the ease of manufacture of its parts and the simplified assembly of these parts to the final product from the early design stages of the product life cycle.
Terms such as Prefabricated Construction, Modular Construction, Volumetric Construction, Containerized Construction, Industrial Construction are frequently used in the sector.
Although these terms are widely used in the industry, sometimes there is a confusion of concepts. The diagram below was prepared to explain the relationship between the terms used.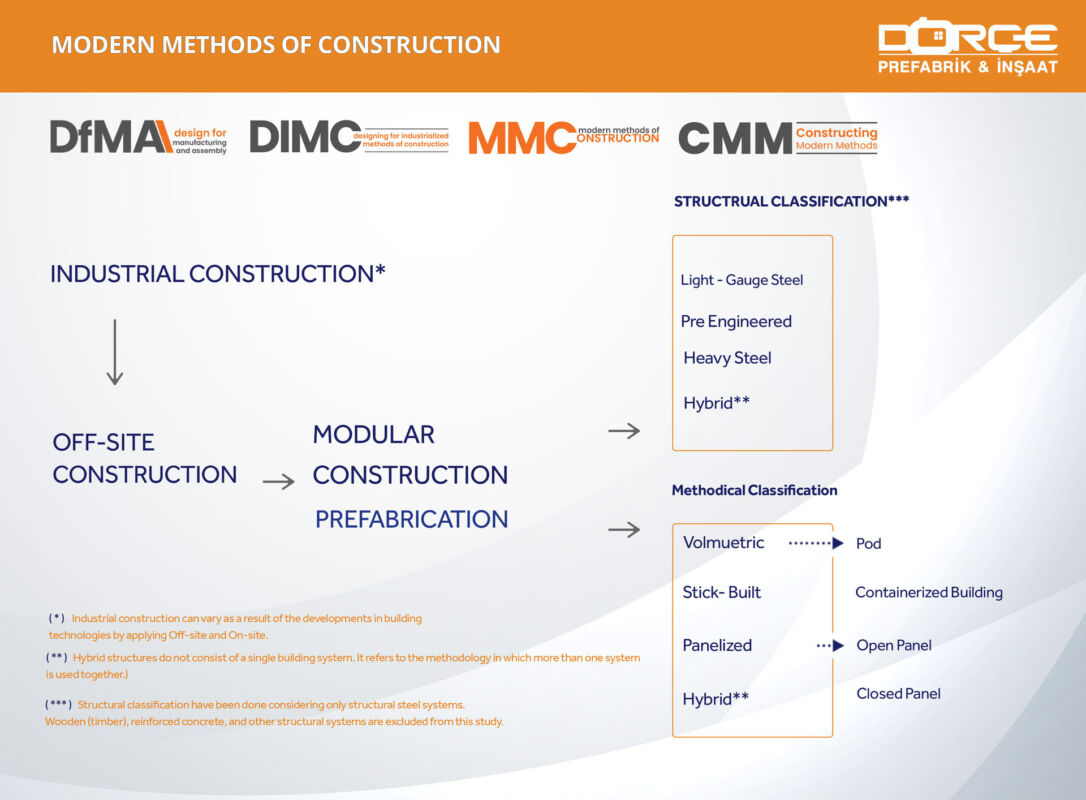 Off-Site Construction: It means the planning, design, fabrication and assembly at the construction site of building elements in a different location (industrial facility) than their final assembled location for the rapid and efficient construction of a permanent structure. Such building elements can be manufactured with all components as prefabricated in off-site industrial facilities and transported to the construction site, or already produced prefabricated elements can be assembled at the site and then moved to their final location. Off-site construction is characterized by an integrated planning and supply chain optimization strategy.

Dorce is one of the leading companies of MMC- Modern Methods of Construction and Off-Site Construction in prefabricated modular buildings sector.
Industrial Construction: As one of the types of off-site construction, is another term that uses more innovative techniques and processes. Also defines the production of structural components in a facility, then their transportation and assembly in the final location. Industrial construction emphasizes a process in which design and production processes are carried out through automation.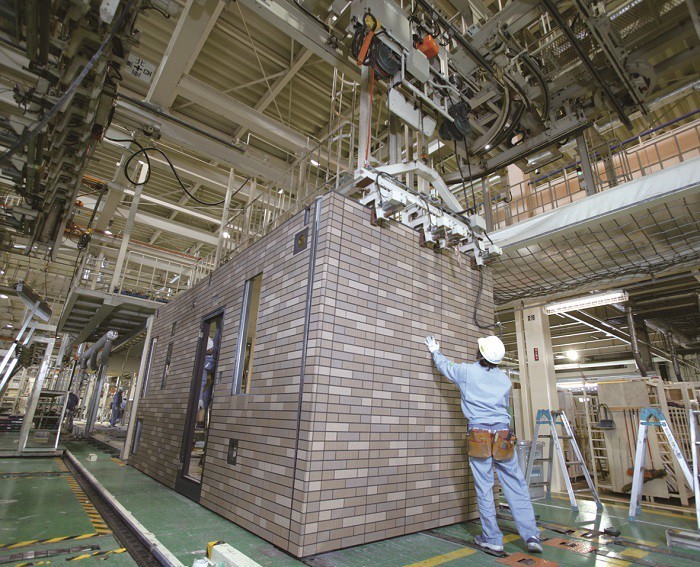 Industrial Building Production, Japan – Sekisui Heim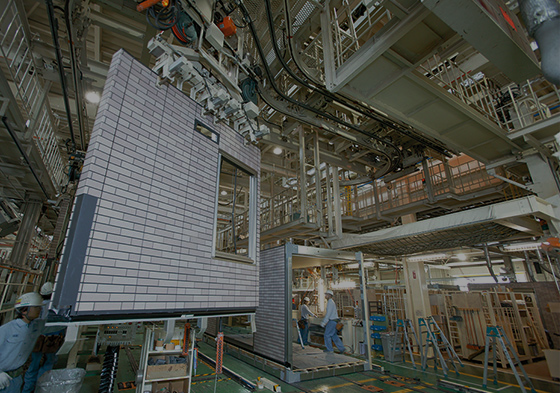 Industrial Building Production, Japan – Sekisui Heim
Prefabrication: It is the practice of combining the components of a building in a factory or another production site and transporting all assemblies or sub-assemblies to the construction site where the building will be completed. The term is used to distinguish this process from traditional construction that takes place with the transfer of the main raw materials to the construction site.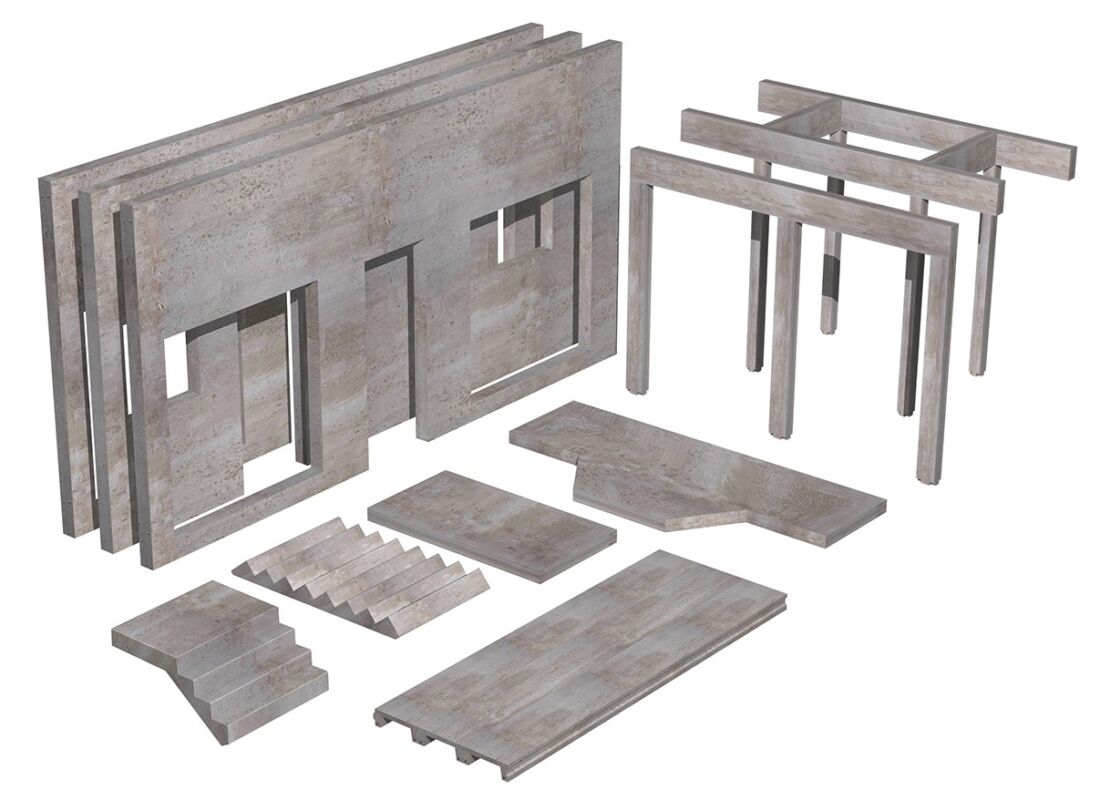 Prefabricated Building Components
Modular structures: These are the structures in which volumetric building modules are used that surround the usable spaces and form the structure of the building at same time. Modular structures are a popular construction method in recent years, especially for education and health buildings such as hotels, schools and student dormitories. The main reasons behind this are reduced site construction time the particular benefit of the scale economy, which can be achieved with the production of many similarly sized modules.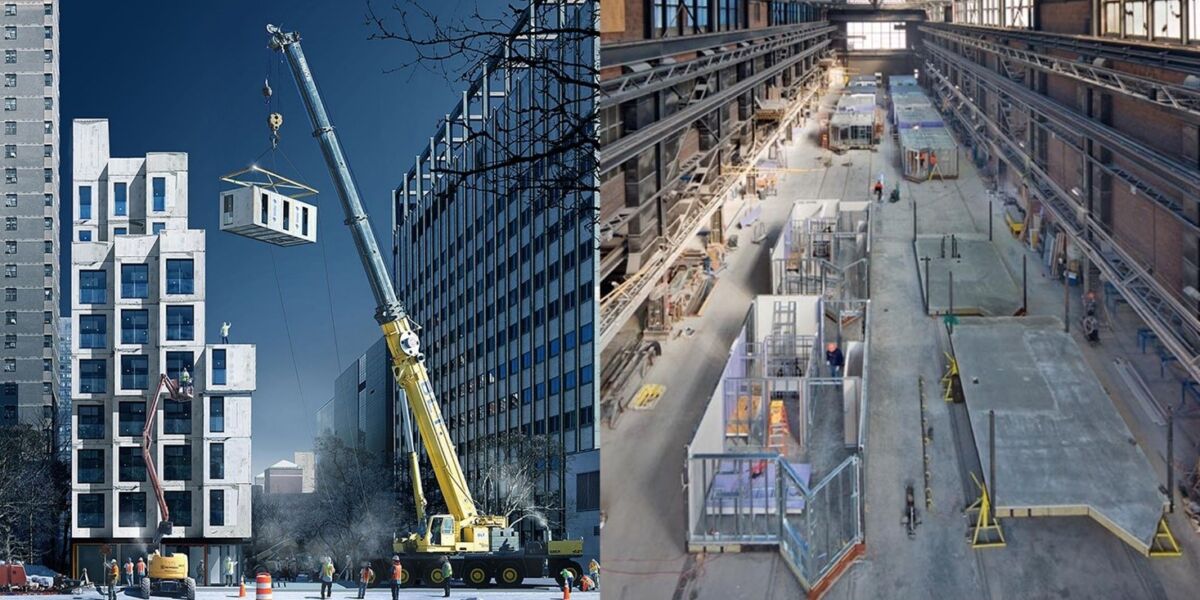 NYC's first prefab modular steel micro-unit apartment building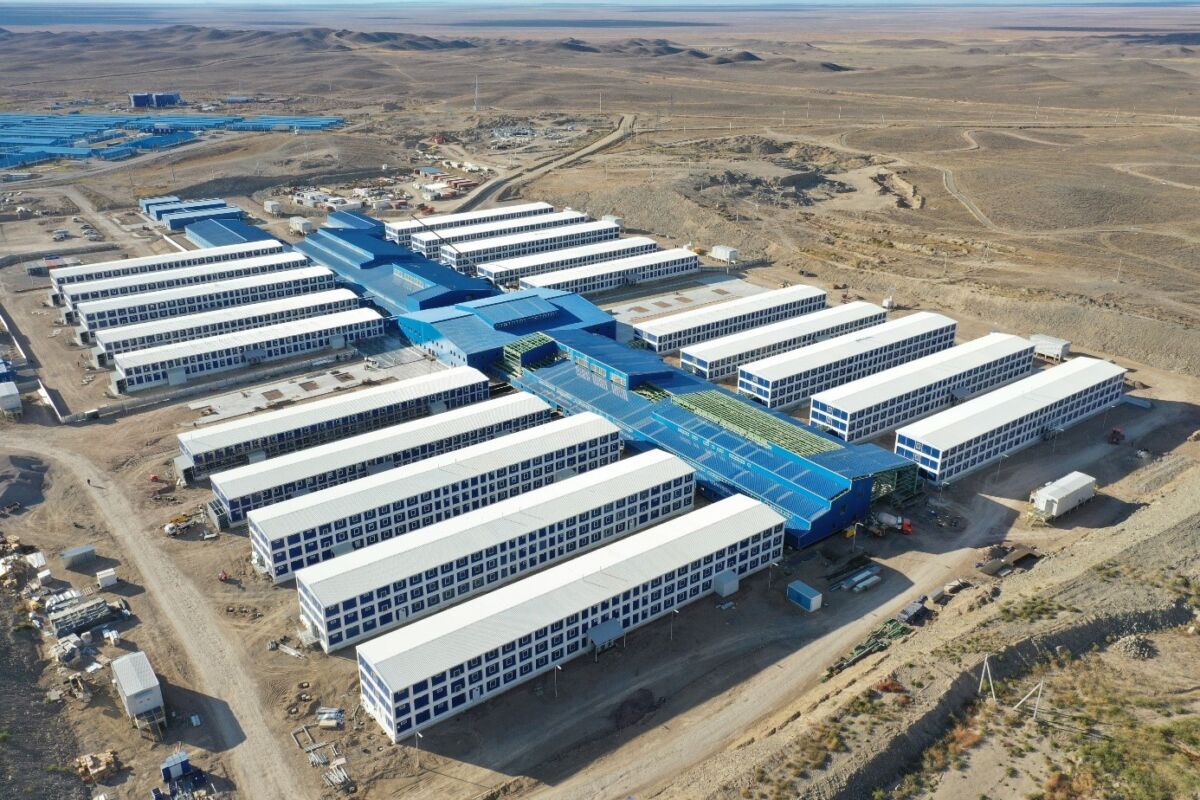 Accommodation Facilities Construction, Aktogay – Kazakhstan / DORCE
Volumetric structures: Volumetric modular units are large structural emmbers that can be interconnected to create complete construction without the need of an additional superstructure. The success and attractiveness of the production of volumetric structures lies in the repeatability of units and design.
Modules can have steel, wooden or reinforced concrete floors and can be equipped in advance with electrical, plumbing, heating, doors, windows and finishing elements. It is ensured that non-conformities are minimized and quality control is at a high level since they can be commissioned before leaving the factory. The units are then transported to the construction site and carefully placed in position on the prepared foundations.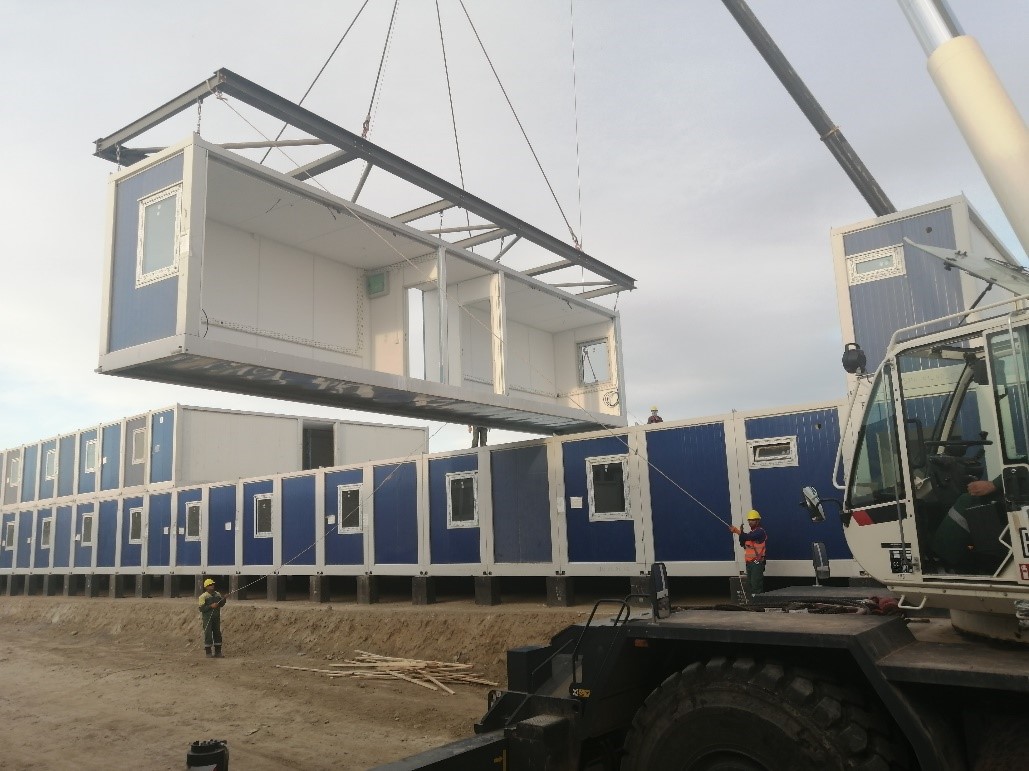 Accommodation Facilities Construction, Aktogay – Kazakhstan / DORCE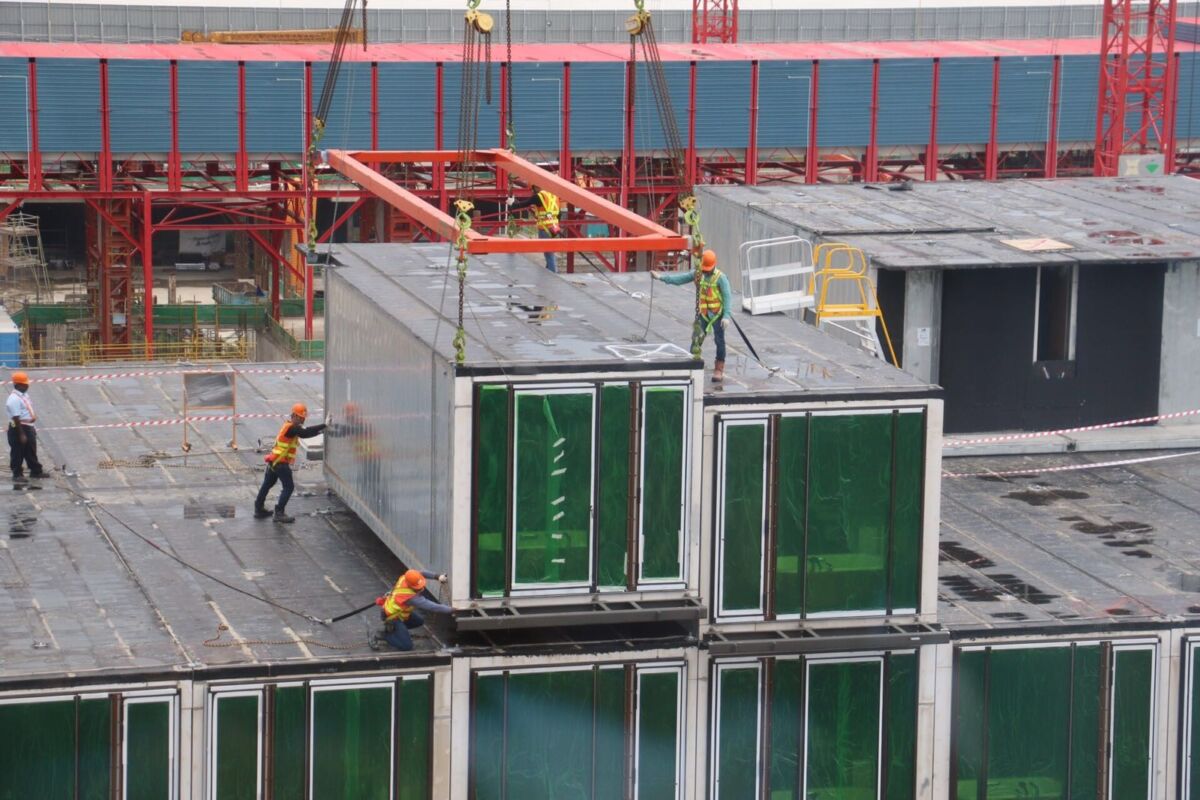 Modular Construction Site View
Panel Systems: Panels are planar structural members that limit the usable area. Along with windows, doors and / or other integrated structural members, they can also contain open frame (open panel) or cladded (closed panel). They are transported to the site in flat packs.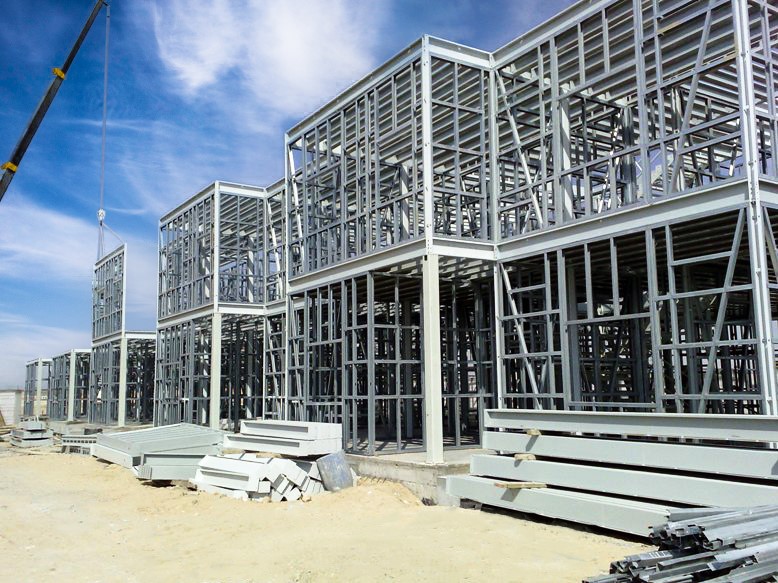 Open Panel Frame System, Housing Project, Abu Dhabi – Dorce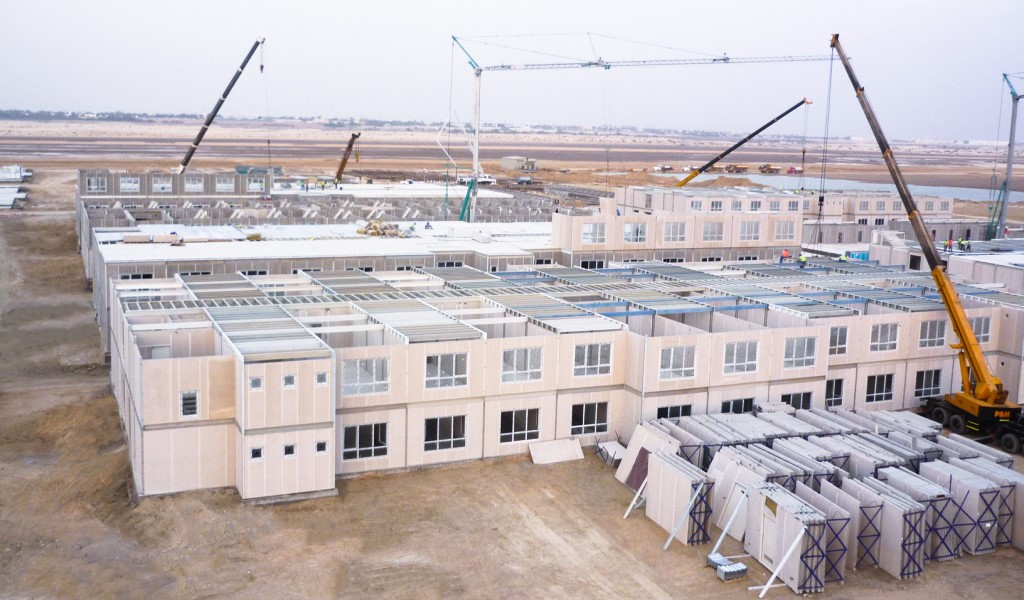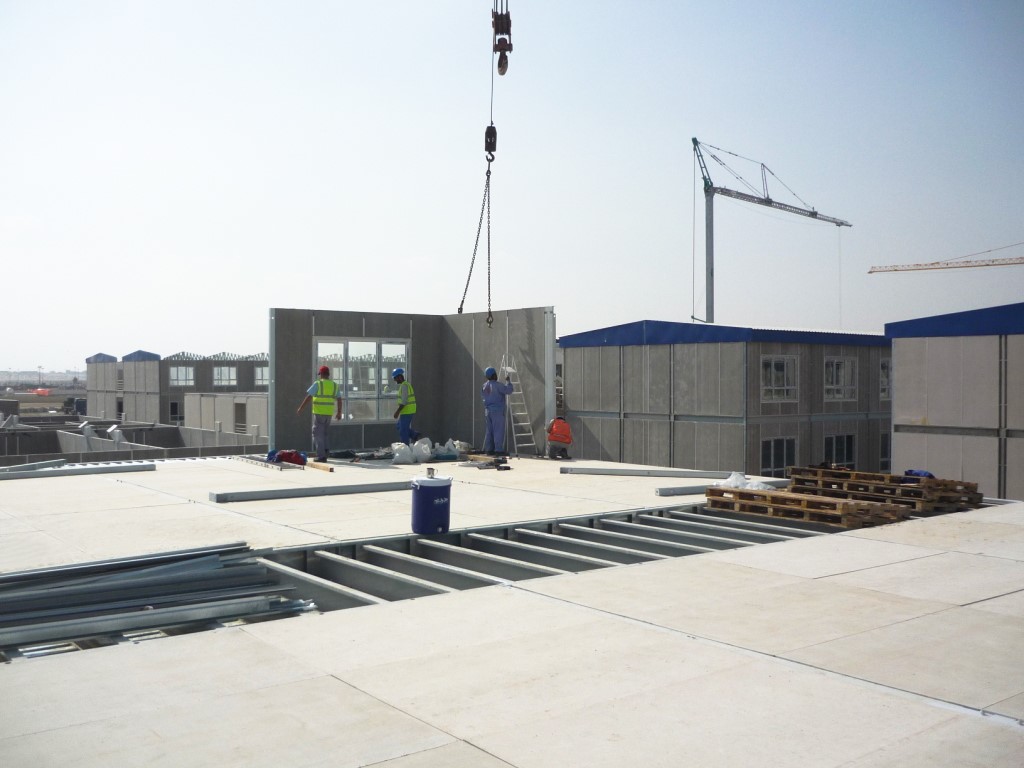 Closed Panel System, Residential City for 26,000 people, Abu Dhabi – Dorce
Hybrid prefabrication: It is a modern construction method in which more than one construction method (such as volumetric, panelised system and heavy steel) is used together.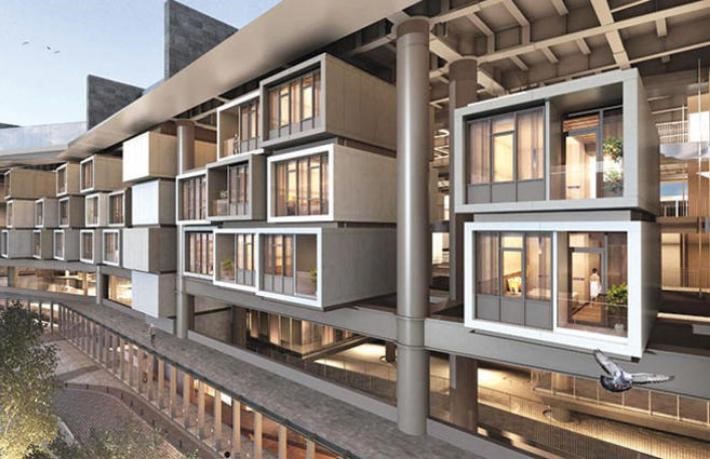 Museum Hotel, Antakya – Indigo Group of Companies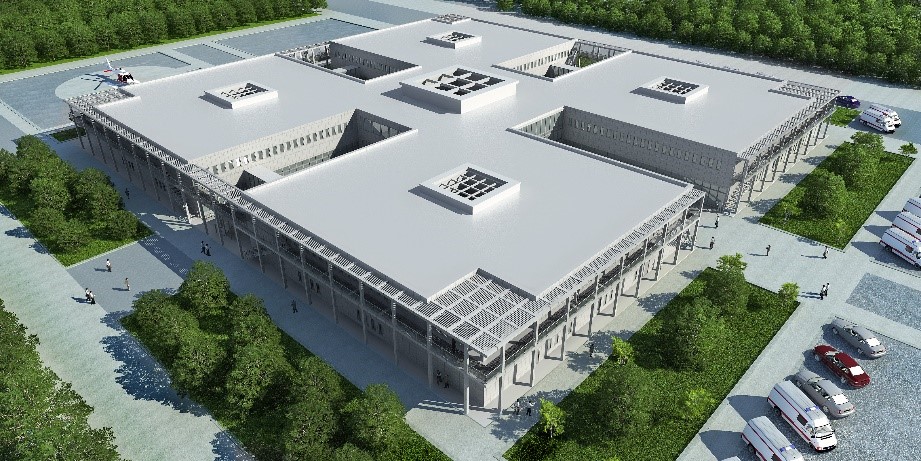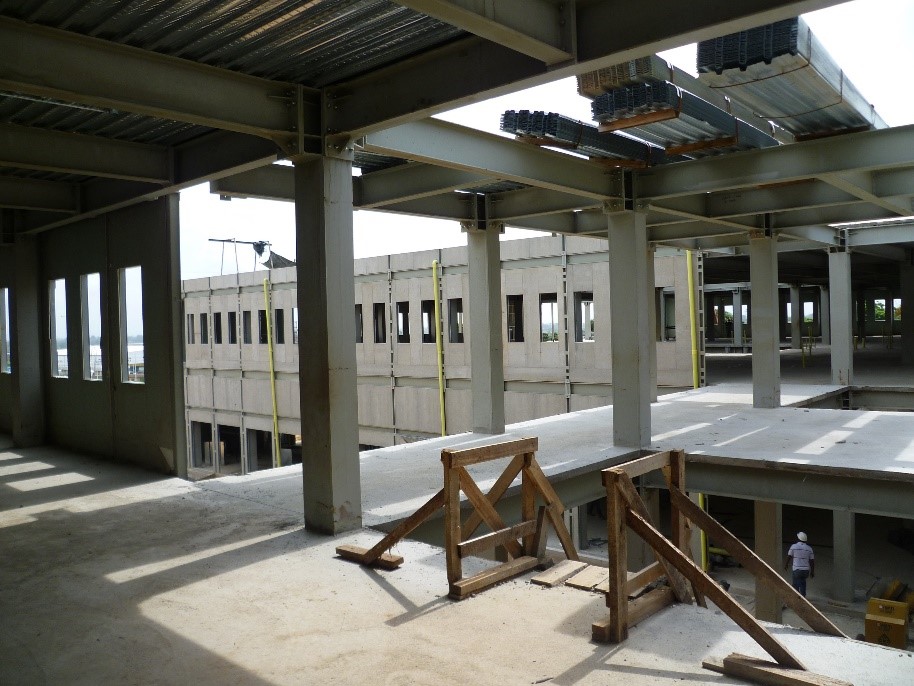 160 Bed Hospital Project, Venezuela – Dorce
Containerized buildings: It is a term that emerged by bringing together modified units in order to bring freight containers into the construction industry. Today, it is used not only as freight containers, but also used for describing the units (containers) produced for this purpose and the buildings created by bringing together these units.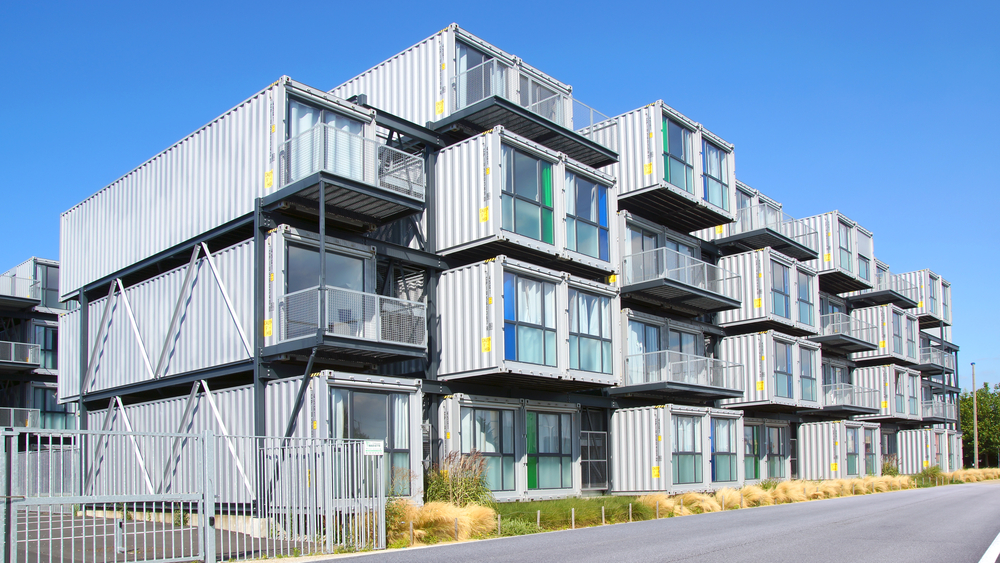 "Motel Building" made of modified shipping containers – Singapore Crowne Plaza Hotel Modular Hotel Expansion – WOHA
Pod: These are turnkey units that was previously furnished and installed, delivered to the site and ready to use. These units can be used in any traditional buiding project if planned at design stage.
Modular pods bring particular value especially for hotel and residential projects since many pods under construction are often identical

Light steel prefabricated structures: These are the types of structures in which the structural frames or members produced using cold worked steel profiles form the carrier system. These frames or profiles can be used at all required points in a structure, including load-bearing exterior and interior walls, non-load-bearing partition walls, floor beams, curtain walls, roof trusses and purlins.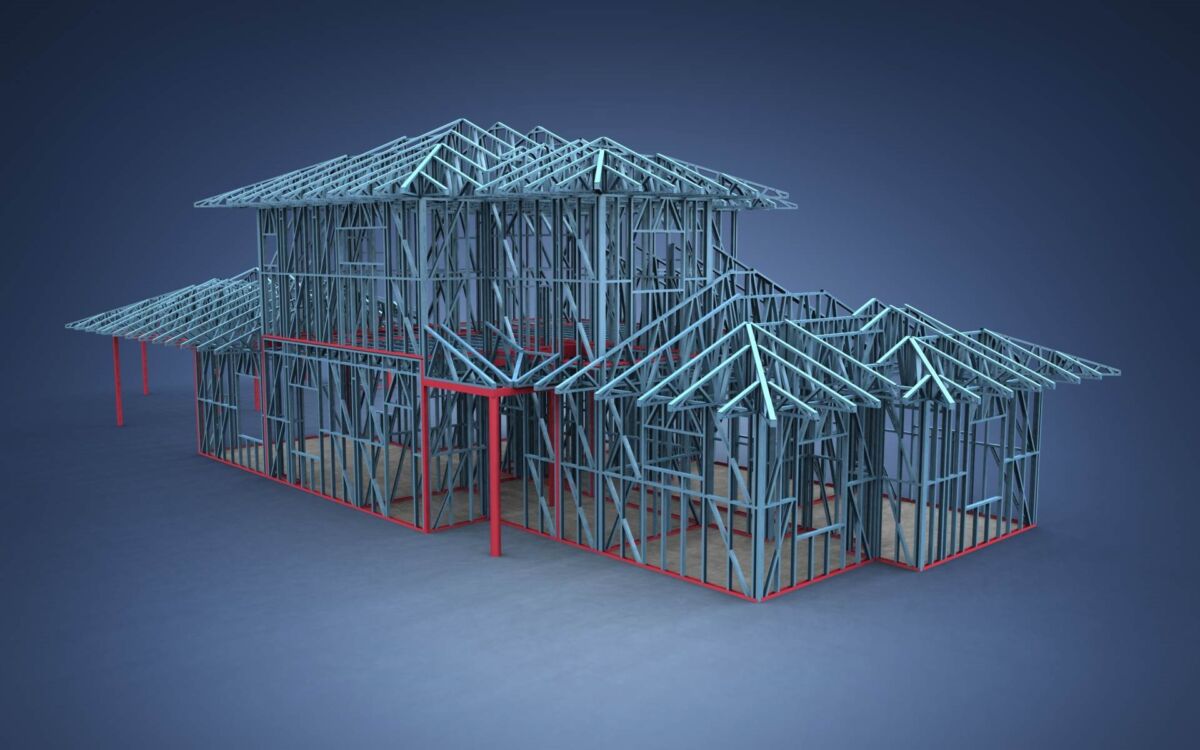 Digital Model of Light Steel Frame System Villa
Pre-engineered heavy steel structures: At the beginning of the 20th century, when the designs and volumetric productions started to be made in industrial facilities, this concept emerged after the abandonment of the first construction method in which the manufacturing design was not made, the steel elements were dimensioned at the construction site and generally joined by welding. This modern construction method is generally preferred in buildings where wide span and height are important, using repetitive frames created with ready-made profiles.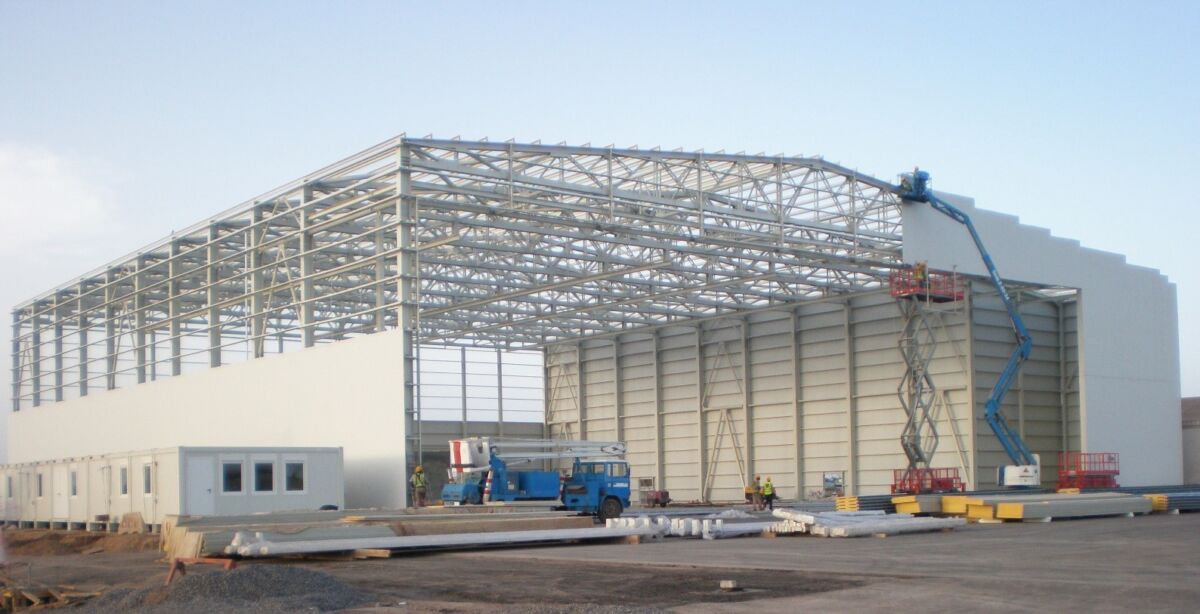 Pre-Engineered Aircraft Hangar, Djibouti – Dorce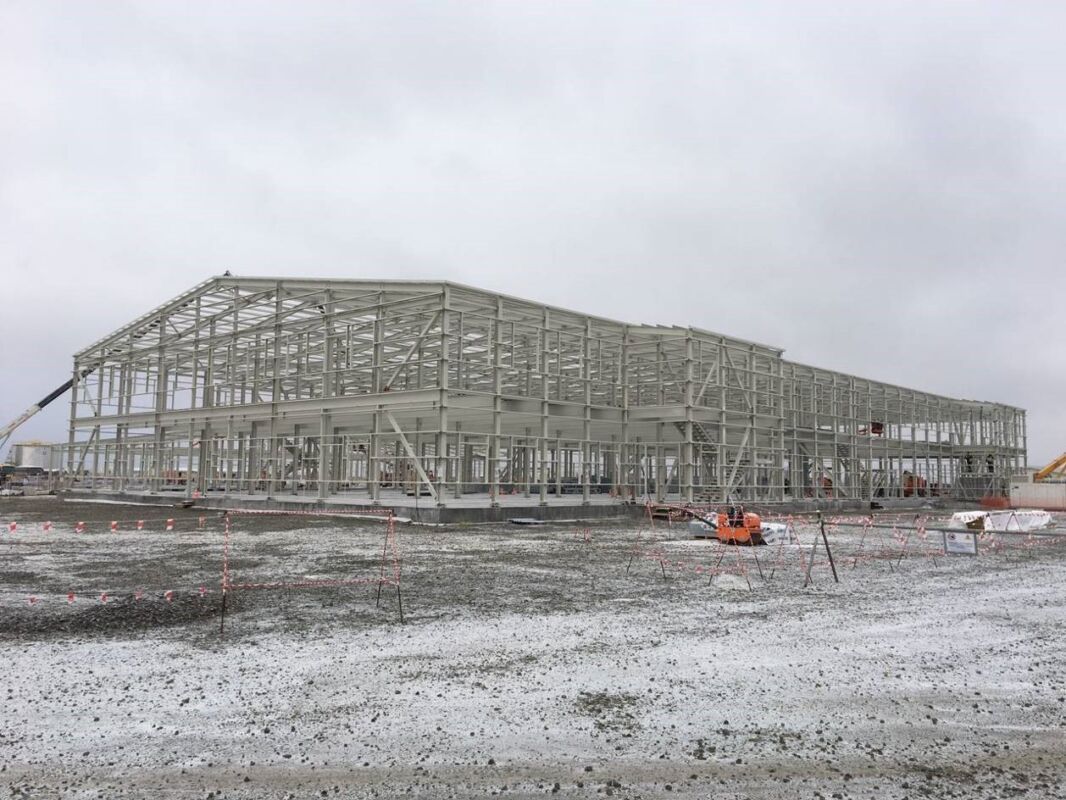 Pre-Engineered Office Building, Tengiz – Dorce
General information about DORCE:
DORCE manufactures and exports prefabricated modular steel structures. It undertakes international contracting projects since many years. It is Turkey's global brand as one of the sector's leading and first established companies.
DORCE, with in-house engineers, manufactures modular structures on a turnkey basis to meet all kinds of needs; Engineering, procurement, production, logistics, assembly, infrastructure and superstructure works, testing and commissioning. It stands out with its ability to quickly mobilize & operate in the harshest conditions in several countries at the same time.
With 40 years of experience, DORCE has one of Europe's largest prefabricated steel structure production facilities operating within the scope of local and international quality standards. It completes Prefabricated Modular Steel Structures offering Engineering and Contracting Services.
DORCE, as demanded by our era, manages the entire life cycle of a project in-house by carrying out design, production, construction and operation activities using Building Information Modeling (BIM) and Design for Manufacturing and Assembly (DFMA) beside traditional methods.