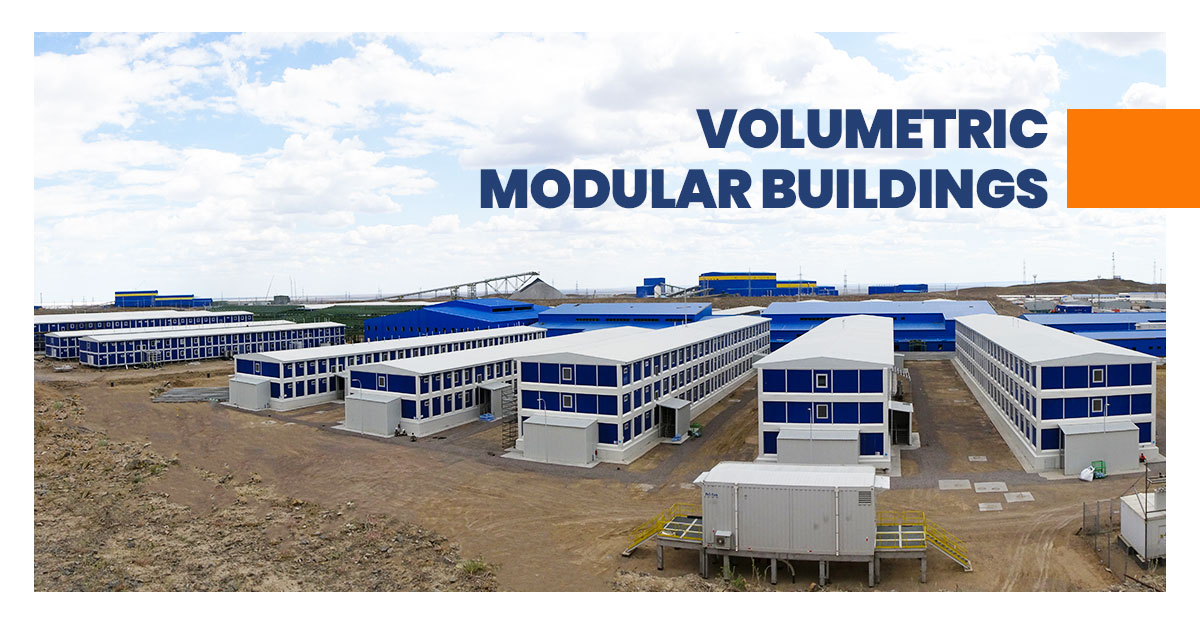 Dorce Design and Export Volumetric Modular Structures to 6 Continents
Volumetric modular building systems, manufactured by DORCE, are used for projects that require rapid solutions in harsh climatic and geographical conditions and used for both temporary and permanent accommodation purposes.
DORCE offers "Convertible and eco-friendly" volumetric modular steel structures
Today we witness "convertible and eco-friendly" volumetric modular buildings stand out in industrialized construction with new construction technologies, new construction methods, and innovative materials, unlike those used in traditional building systems.
Prefabricated modular building elements offer high-quality projects with lower costs and optimized & accelerated construction programs. The concepts such as Design for Manufacturing and Assembly (DfMA) & Designing for Industrialized Methods of Construction (DIMC) constitute the most basic and modern elements of Off-site construction and Modern Methods of Construction. (MMC)
Demand has been increasing in sectors such as education, entertainment, health services, and housing
Mobile life offers fast and practical solutions with prefabricated modular structures to all the sudden and changing needs of people far away from their homes in the most severe climatic conditions. Stable architectural solutions used in built-in building systems have begun to be replaced seriously by modular building systems. Demand for modular building systems has been increasing day by day in many areas of our lives such as education, entertainment, health services, and housing.
In general, modular building systems can be classified as permanent and mobile modular buildings.
Permanent modular buildings; 
schools,
hospitals,
shopping malls,
clinics,
residences,
housing units,
vehicle inspection stations,
police stations,
warehouses,
hangars,
administrative buildings,
office buildings,
hotels and
Mobile modular buildings;
caravans,
trailers,
tiny houses,
modular containers,
temporary emergency & disaster facilities,
integrated refugee facilities/camps,
worker accommodation camps,
labor quarters and
mobile hospitals.
Volumetric modular buildings of DORCE can be used as a traditional accommodation as well as temporary – volumetric modular accommodation in disaster and war zones; They are also used as temporary residential camps or permanent accommodation facilities at construction sites, oil & gas, mining, drilling, offshore and pipeline sites.
Modular units manufactured in a controlled environment
Modular building systems, manufactured by DORCE, are used for projects that require rapid solutions and must be completed in harsh climatic and geographical conditions. The component of modular buildings manufactured in a controlled environment at the industrialized facility (factory conditions) and transported to the construction site as units and assembled at the place.
DORCE completes staff accommodation facilities in Kazakhstan with a volumetric modular building system
Last year, DORCE has successfully completed the construction of Copper Mine Staff Accommodation Facilities within the scope of the Aktogay Expansion Project in Kazakhstan.
Pre-manufactured containerized modular units are manufactured at the Dorce production plant in Turkey, delivered as flat-packed and each module is assembled at Dorce workshops in Kazakhstan. Thereafter, modules delivered to the site in Aktogay and erected side by side and stacked to create a complete structure.
The connection of all modular buildings is done at the construction site. They are immediately made weathertight to protect the interior and interconnected structurally. The finishes and mechanical connections are completed, and all systems are inspected and tested. Custom features such as site applied finishes, pitched roofs and other architectural treatments can be added to make the building a customized structure, ideally suited for its specific use.
10 modular buildings with 1,628 modules in total
Finally, the entire structure composes of 10 modular buildings consisting of 1,628 modules in total.
Building modules are demountable, transportable, and designed to allow an easy dismantling and erection for several times. Volumetric modular buildings of DORCE are designed to be assembled on the reinforced concrete columns with anchorages above the ground level.
Off-site construction at -40 degrees climate conditions
These types of building systems allow the rapid formation of larger interior volumes and larger structures by coming together of modules as volumetric structures. Copper Mine Accommodation Facilities Project of DORCE in Kazakhstan – Aktogay was completed with "volumetric" building systems in -40 degrees climate conditions.
Volumetric modular building systems offer plenty of advantages
The advantage of this method is that all conditions are under control since the manufacturing process takes place in the factory environment. Thus, the quality of the produced materials increases. Fire, sound, and thermal insulation can be made as desired and accordingly with the requirements of projects and customers. In addition, this Modern Method of Construction (MMC) saves time.
Volumetric modular construction provides many advantages to people as a part of today's modern living spaces and offers practical solutions in accordance with the changing needs of people. Volumetric modular buildings are permanent or temporary structures that can be equipped with high-level technology, meet their own needs, even solve their sub-structural needs such as energy recovery and waste recycling. They are lightweight, easily assembled and disassembled, and transportable from one location to another.
Share
[/fusion_builder_container]