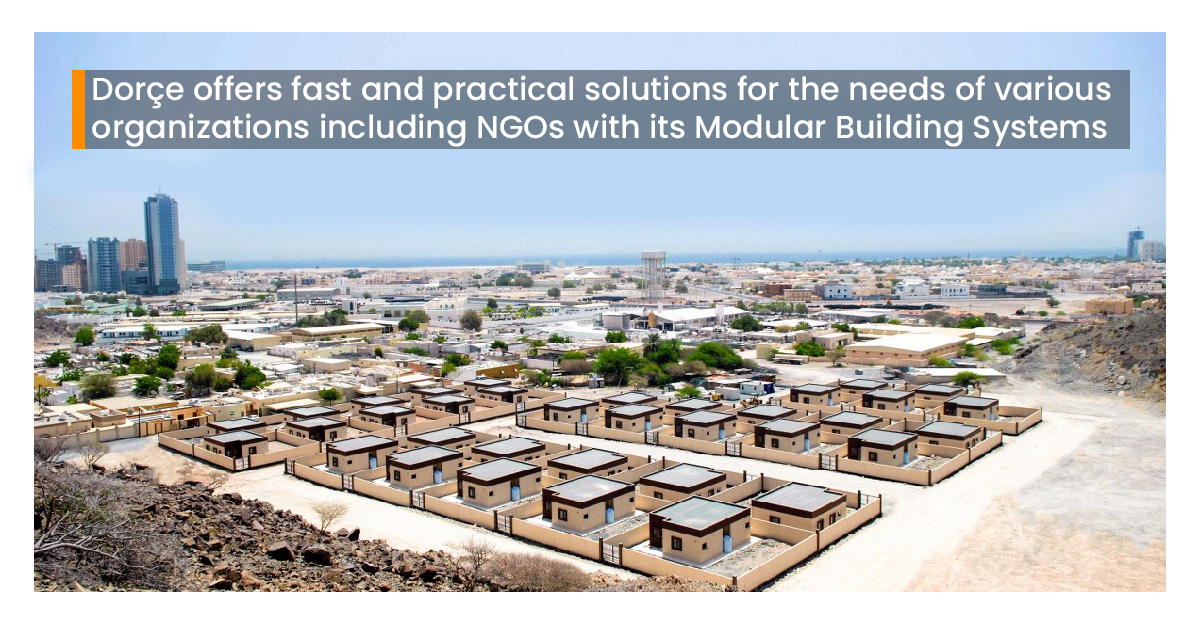 Dorçe offers fast and practical solutions for the needs of various organizations including NGOs with its Modular Building Systems
DORCE, as one of Turkey's global brand, continues to offer solutions with international engineering and contracting services in the field of prefabricated modular steel structures.
40 years of experience
DORCE, completes its projects to meet the needs of all kinds of organizations (such as; NATO, UN and Emegrency & Aid management organizations) with its 40 years of experience. Engineering, procurement, production, logistics, assembly, infrastructure and superstructure works, testing and commissioning are completed on a turnkey basis with in-house Engineering team.
Modular system is an ideal option for projects that require rapid solutions despite severe climatic and geographical conditions. The building components, which are manufactured in controlled factory environment, are transported and assembled on-site. In this building construction method called volumetric construction, the modules merge to form the bigger structures.
Provides all kinds of improvement and equipment possibilities such as fire resistance, sound proofing and thermal insulation.
All phases are under control in the volumetric building system thanks to the factory environment. Thus, the quality of the manufactured material has the same standard. This system, which enables all kinds of improvements and equipment such as fire resistance, sound proofing and thermal insulation, is also unrivaled in terms of time saving.
In volumetric building system, buildings such as;
Hospital,
Commercial Centers,
Schools,
Clinics,
Housing,
Administrative Buildings
Hotels,
Dormitories and so on.
are built in a stylish, solid and comfortable manner with modern and cultural designs.
Today, permanent or temporary structures are equipped with high-level technology, meet their own needs, and even solve their infrastructural needs such as energy recovery and waste recycling. They are lightweight, easily assembled, dismantled and transported to another location. These modern structures have become the choice for sectors such as;
Energy
Health,
Oil & gas,
Defense Industry,
Tourism,
Education
Prefabrication blazes the trail for the projects to be carried out simultaneously in different locations.
Prefabricated modular steel structures play a very important role in projects that need to be completed in different locations simultaneously in a short time where high organizational skills are required; in earthquake-prone and disaster areas, in regions where there are impossibilities or where lack of materials is a challenge. In recent years, prefabricated modular steel building systems have also been preferred in the construction sector in many ways such as;
Housing,
School,
Dormitory,
Field hospitals,
Clinic,
Police station,
Accommodation cities and worker camps in oil-gas and mining fields,
Integrated refugee facilities,
Military camps & bases,
Border camps,
Aircraft & helicopter hangars,
Ammuniton storages,
Shootiing range and training centers.
Another reason for preference is the fact that prefabrication enables to produce special projects such as steel armored buildings that are bullet and mortar proof and can be transported by air.
Thanks to its production system and construction methods, it goes beyond the expectations of the modern age with gains such as;
Earthquake resistance,
Lower carbon footprint,
Recyclable green material,
Positive impact on the environment and traffic,
Shorter construction period and safety
A global brand that offers the most accurate solutions for project-based needs
Turnkey project is the service that domestic and foreign companies need most within the scope of large-scale projects. Completion of all the processes by the same company and ready-to-use delivery make it possible to create a complete and comfortable living space in every corner of the world. Today DORCE is a global brand that exports to more than 60 countries and has branch & affiliate companies in 15 different countries. It offers the most accurate solutions for project-based needs.
Share This Story, Choose Your Platform!