New trend: "Volumetric Modular Construction"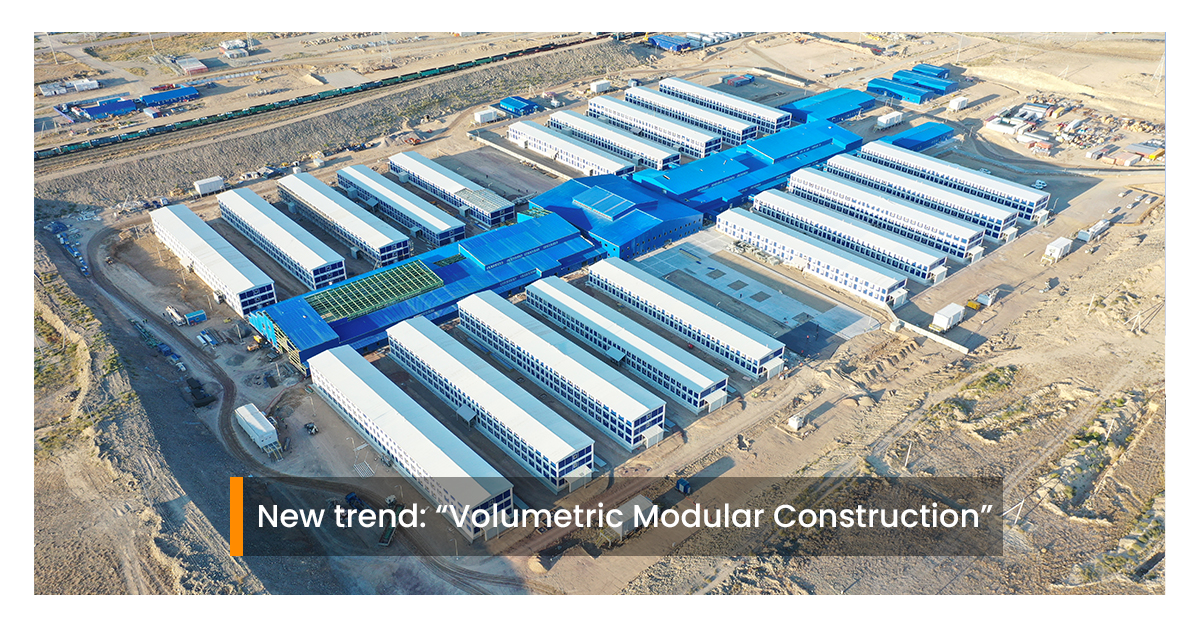 Volumetric modular construction is a process of off-site manufacturing of volumetric modules in a controlled environment at the industrialized facility (factory conditions) and assembly of these modules in order to create the main structure.
Are Volumetric Construction and Modular Construction different from each other?
Volumetric structures are a type of modular construction. Fundamentally, volumetric structures are modular structures in respect of manufacturing process; but nevertheless, all modular structures are not considered volumetric. Modular construction is the assembly of one or more components manufactured off-site. They have a wide variety of uses in numerous sectors with the philosophy of Plug & Play. So, the abovementioned modules can be turned into off-shore platform (Oil Exploration & Drilling) and accommodation facilities that consist of modular containers. Due to this concept that has wide sectoral range vary from the usage purposes in modular construction, volumetric and modular construction differ from one another.
In an overall perspective, different modular structures undergo the similar construction processes by using similar technology, even if there are different utilization purposes and sectoral requirements. DORCE, with its 40 years of experience and feasibility and design capabilities of in-house 150 architects & engineers, is able to manufacture modules that are open on one side or more, depending on requirements of project and demands of customer. Feasibility and design phase of volumetric structures should be accurate and is an absolute prerequisite for the construction process to be carried out successfully on site. Within this framework, DORCE manages entire lifecycle of a project with in-house design, construction and operation services by using Building Information Modeling (BIM) rather than traditional methods, by catching the necessities of the era with Modern Methods of Construction (MMC).
DORCE, Brings 5 Big Advantages with Volumetric Construction
Durable Structures with Fewer Raw Materials
When it comes to Volumetric Structures, the materials to be used for the assembly are usually fewer, comparing to traditional construction methods. The raw materials and other materials are processed in controlled factory environment, avoiding any possible mistakes in each phase of manufacturing. In this regard, volumetric construction comes into prominence as structures that exceed employer and customer's expectations in terms of durability and lifetime.
In comparison with other construction methods, volumetric construction projects are carried out at an estimated price in a shorter period of time. Benefits of modular construction are the result of the design & build process that is carried out smoothly. First of all, DORCE brings the teams of both parties together to clearly understand the needs and expectations of the customer for volumetric building projects. The rest of DORCE's architects, engineers, and designer team participate in the construction process and the work schedule for a whole project is prepared.
Once the design is approved, the foundation works at the construction site and off-site module production (in a factory environment) begin simultaneously.
Volumetric modular construction projects are budget-friendly and completed without the least margin of error due to the fact that the design is complete, major part of construction is carried out in controlled environment and each phase of the process is supervised, from design to testing and commissioning.
Project Based Volumetric Structures
You should not be misled by words like "factory" and "volumetric". DORCE's expert team is ready to help you in shaping the interior design of these modules that reflect your style.
The volumetric structures manufactured by DORCE have interior designs that facilitate your daily life and routines such as accommodation, rest, work and entertainment. Within the scope of the project, areas such as the bathroom, high ceiling, office and the warehouse can be added in accordance with specific customer requirements. DORCE merges functional requirements and aesthetic values with economic and technical possibilities.
Volumetric Modular Construction is Budget-Friendly
The geographical and climatic conditions of the construction site are the most challenging elements for any construction process. Even a light rain can delay projects for days and increase costs. With the volumetric construction, which is the latest fruit of technological developments and construction materials, this problem has become a distant memory. The reason is that a major part of the work is completed in a controlled factory environment. In other words, production is carried out in an indoor area.
Another benefit of volumetric off-site construction that contributes to the budget is that each module to be used for construction is mass produced. This means less cost for the machine, tool and equipment replacement and other related design and construction processes.
Eco-Friendly Volumetric Construction Generates Less Waste
The majority of the modular construction process is carried out off-site. This is another factor that contributes to the sustainability of prefabricated modular steel buildings. The negative effects of the project on the environment and the construction site are minimized. Thus, while the number and use of vehicles and heavy equipment needed at the site are reduced, causes less environmental pollution and provides increased occupational safety.
Volumetric Accommodation Facility at -40 Degrees
Aktogay'da Bakır Madeni Konaklama Tesisleri Projesi -40 derece iklim koşullarında "volumetrik" yapı sistemleri ile tamamlanmıştır. – Volumetric modular building systems are used in the projects that require speed and tenacity in harsh climatic and geographical conditions. The components are manufactured in controlled factory environment and shipped to the construction site as flat pack for the assembly. Today these building systems enable the rapid formation of larger interior volumes and larger structures by combining modules as volumetric structures. DORCE completed the Worker Accommodation Camp Project using "volumetric" building system without interruption even in severe climatic conditions up to -40 degrees.
Note: In this video, the benefits of the volumetric construction process are clearly seen by assembling the modules at the construction site.
Share This Story, Choose Your Platform!